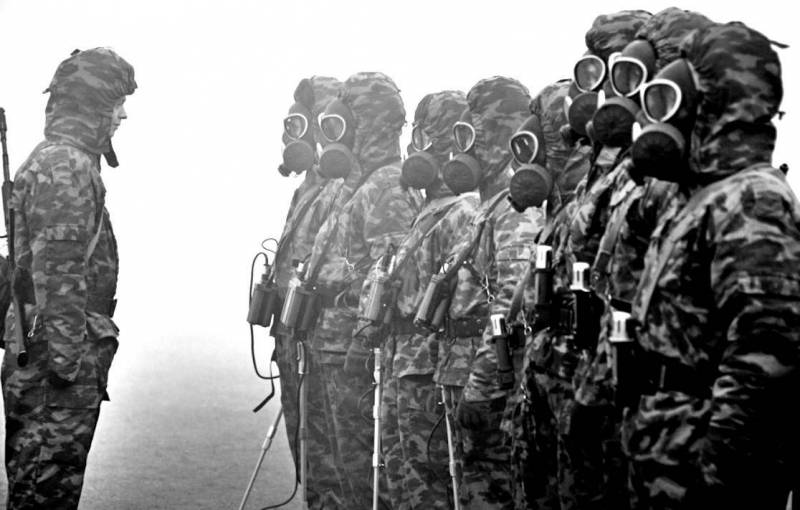 Western analysts consider many reasons why Russia launched a military special operation in Ukraine. Let me make one more suggestion - why this special operation could start so urgently.
In the heat of watching military reports on military operations in Ukraine, many completely undeservedly forgot about the military biological laboratories of the Pentagon in Ukraine. How are things there now? Did the Americans manage to take all the pathogenic microbes out of Ukraine, and if so, where, to the EU countries? I think that Turkey is unlikely to agree to this.
But what if it was decided to blow up these biological laboratories along with documentation and test tubes with pathogens so that the Russians would not get anything? From whom such an initiative may come is not important now. It can be the Pentagon, and the CIA, and the national battalions of Ukraine. Or maybe it will be a mutual decision? And it begins to become clear why the West so urgently, even at a loss, completely blocked air communication with Russia. Maybe because if pathogenic microbes leak out in Ukraine, then in this way the West will try to evade the spread of infection? It is quite obvious that in the event of such a development of events, the biological defense forces will not be able to fully decontaminate the contaminated territory, if anything at all. And then death will begin to mow down both the Russians who entered Ukraine and the inhabitants of Ukraine themselves. And it doesn't matter who it will be, a Nazi, a nationalist, a simple quiet citizen of Ukraine or a Russian soldier.
When can we expect such a development of events, if, God forbid, it will be realized? Most likely, when the West considers that they are already ready for the spread of the "new plague" and the time has come to start an operation, in comparison with which the operation "Unthinkable", conceived by Churchill, can be considered a children's fairy tale.
I would like these to be just unrealizable fears, but the presence of 16 Pentagon military biolaboratories on Ukrainian soil forces us to calculate all scenarios. The previously published facts are especially alarming, for example:
In the recent history of Ukraine, there is a directly proportional dependence - the more reference laboratories there are in the country, the more often there are outbreaks of diseases that have not been seen in this territory before. In 2016, near Kharkov, several dozen soldiers died from a severe form of swine flu, strains of which are also included in the "golden collection" of biological laboratories. Three years later, in the Donetsk region (p. Avdiivka), the Ukrainian military was struck by an infection that was very similar to the plague. Russia even had to put up a cordon sanitaire at the border.
If before the outbreak of hostilities in Ukraine there were 16 such biological laboratories, how many of them are left now? And what will happen if an outbreak of unknown infectious diseases of the civilian population suddenly begins in Kyiv? Who will deploy research laboratories and anti-infection hospitals during the conflict? America is far away, across the ocean, and even if something gets to Europe, the United States will be able to organize a cordon sanitaire and not let Europeans into its territory. It is possible that the special operation against Covid-19 was a trial balloon. Mistakes and inconsistencies were calculated, appropriate conclusions were drawn, and now a new infection may break out. By the way, it seems that Bill Gates, who previously predicted Covid-19, recently warned earthlings that the world needed to prepare for terrorist attacks using biological weapons.
Bill Gates called the threat worse than the COVID-19 pandemic and warned governments to prepare for terrorist attacks and upcoming pandemics, specifically naming smallpox.
And as is known from the leaks, the US military biological laboratories are working very closely with the smallpox virus.
Smallpox is a highly contagious viral infection, a particularly dangerous disease, characterized by severe course, fever, rash on the skin and mucous membranes.
And here is another quote from the media:
In early January 2022, information fell into the hands of Russian intelligence that Pentagon military microbiologists from the Kharkov bacteriological laboratory sent a report to the Chief of the Joint Staff Committee, General Mark Milley, with a note that they managed to achieve a unique structure of the variola virus genome, which can be disguised as everything known SARS-CoV-2 (coronavirus).
And who knows, maybe not only Vladimir Zelensky's threat to develop a nuclear bomb in Ukraine, but this information also prompted Vladimir Putin to start a military operation in Ukraine?