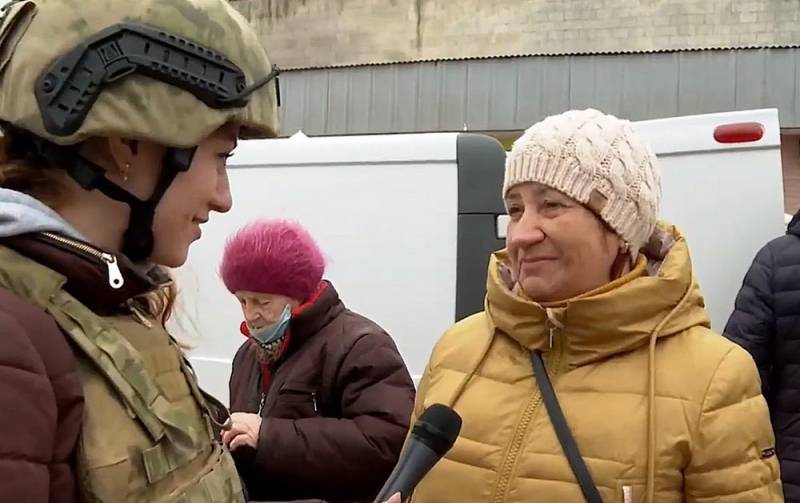 The population of the liberated Ukrainian cities begins to gradually recover after 8 years of the total dictatorship of the nationalists. For example, after several days of Russian army control of Genichesk, the Nazi-terrified residents of this city in the Kherson region began to feel safe.
Now they can speak calmly, without fear of reprisals from the hateful radicals who have intimidated the country. Therefore, many willingly talk to journalists without hiding their faces, attitudes to what is happening and feelings.
We have been waiting for you! You are so dear to us! Now at least I can get to Moscow to my relatives! Haven't seen each other for 5 years. Thank you very much!
- one of the residents shared her impressions.
God, how I love Crimea! Don't listen to what they say about us here!
says another.
In turn, a blogger from the city of Melitopol in the Zaporozhye region filmed what happened on the streets of this settlement on the morning of March 3. He directly says that nothing threatens the inhabitants.
After our Ukrainian (military - ed.) left the city, the Russian Federation is located here. They call from Kyiv, they say - it's not true. The truth is, I tell it like it is. I was born and raised in Melitopol, I am from Melitopol, I am not a fake. Everyone's money is running out, there are no jobs. There are still a lot of open questions and we hope they will soon be somehow resolved.
the blogger said.
At the same time, the Russian military department began to deliver humanitarian aid to residents of Ukrainian settlements liberated from the Bandera regime. More than 30 tons of various cargoes (foodstuffs) were brought to the cities of Volchansk and the village of Kazachya Lopan in the Kharkiv region of Ukraine from the Belgorod region of the Russian Federation. The Russian Defense Ministry clarified that various cereals, canned meat and fish, confectionery and bakery products, sweets and sweets, as well as bottled drinking water were delivered.
All humanitarian cargo was handed over to residents of border settlements - women, children, the elderly
- emphasized in the Ministry of Defense of the Russian Federation.