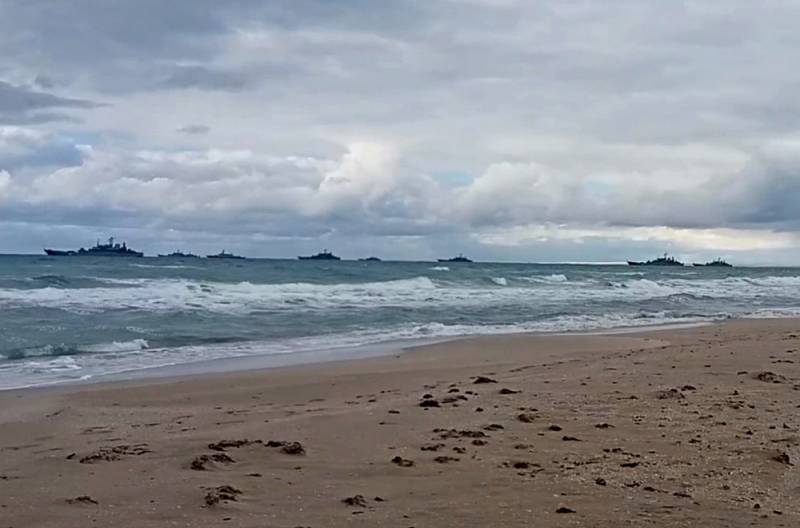 A video from an eyewitness appeared on the Web, which recorded the presence of at least nine large landing ships and several more pennants of the group's security ships off the coast of Crimea. It is assumed that the BDK loaded
technique
and marines and are waiting for the order to land troops on the coast near Odessa.
It should be noted that despite the quality of the personnel, it was possible to establish the composition of the naval squadron by the silhouettes of the ships. The squadron includes: 6 BDK of project 775, 1 BDK of project 11711, 2 BDK of project 1171 Tapir, as well as the frigate of project 11356P Burevestnik, a small missile ship (MRK) of project 21631 Buyan-M and a sea minesweeper of project 266 "Aquamarine".
It should be noted that on the morning of March 3, the General Staff of the Armed Forces of Ukraine issued a statement in which it announced the movement of an amphibious detachment of ships of the Russian Navy, consisting of four large landing ships and three missile boats, to Odessa. At the same time, it is not known whether the ships in the communiqué are part of the squadron shown in the video, or if it is an independent grouping.
We remind you that on February 24, the RF Armed Forces launched a special military operation to denazify and demilitarize Ukraine. Currently, the beaches of Odessa are mined and anti-tank hedgehogs are installed on them. Therefore, the landing operation, probably, if it takes place, will take place on
suitable sites
coast of the Odessa region.