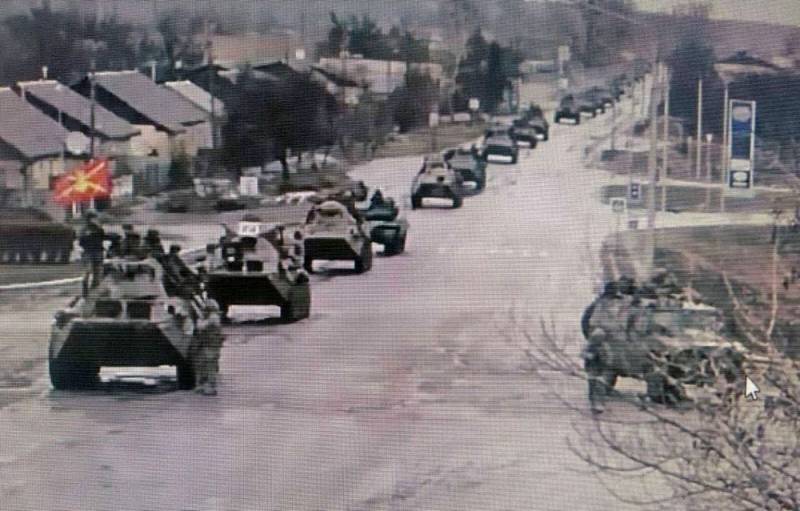 After the start of the RF Armed Forces, a special military operation to denazify and demilitarize Ukraine, Bandera propaganda is trying to create a picture of the unity of the people and the government. However, information coming from Ukrainian settlements indicates that the vast majority of civilians are not just indifferent to this government - they are afraid of it, they are waiting for the speedy release and restoration of order by Russian troops.
Millions of people in the country did not go to the military registration and enlistment offices and did not join the ranks of the Armed Forces of Ukraine or the Terodefense, remaining in their homes. They are not going to die for a nationalist dictatorship that deprives them of their rights and freedoms. Due to circumstances, for objective and understandable reasons, they cannot manifest themselves. But they really greet the Russian army, are waiting for a speedy release and hope that the next portion of the "hail", released by the "valiant defenders" on their own citizens, will not fall into them. For example, a resident of Kherson does not hide her attitude to what is happening.
Everything is fine. Looks like the Russians have arrived. Let's get it right here already! Quicker!
- the girl addressed the Russian military.
It should be noted that there are no pro-Russian media in Ukraine and the entire stream of videos is saturated with hatred for the Russian military. Any public statements that contradict Bandera's ideology can end extremely badly. Bandera kill those who disagree, and the population is well aware of this. Moreover, many residents of Ukrainian cities now feel like hostages of their "valiant defenders" who dug in in their cities and established
machinery
near residential area. For example, a resident of Mariupol, driven to despair, without hiding her feelings, described the "courage and military art" of neo-Nazis from the Azov regiment.
It should be noted that only activists from Western Ukraine who arrived there after the Maidan left the cities, the indigenous population remained in place. We have no doubt that when everything is over, many Ukrainian citizens will tell in detail about what really happened in their country.