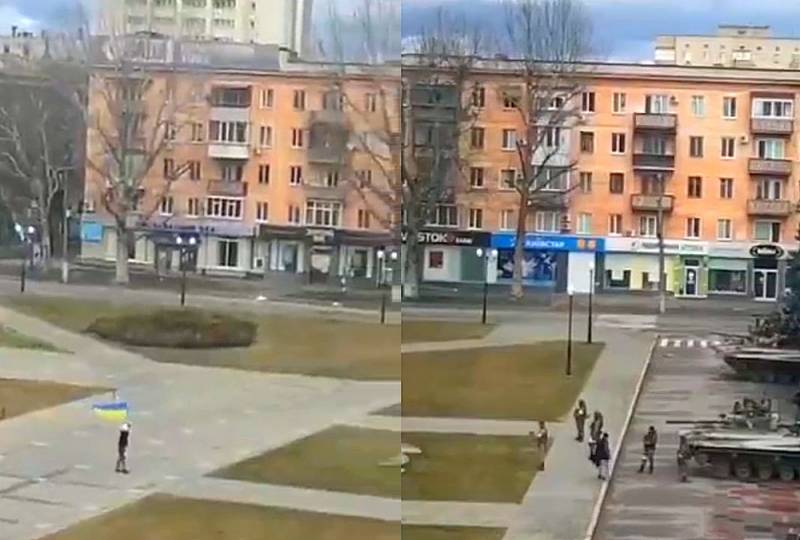 On Monday, March 2, units of the Russian army occupied Kherson. In social networks, eyewitnesses posted a video showing the level of "support" for the Ukrainian authorities by local residents.
The video shows how one drunken citizen entered the square occupied by Russian tanks, waving Ukrainian flags. Another person entered into a discussion with the Russian military. No crowds defending Nezalezhnaya and opposing the "Russian occupiers" were noticed - as well as repressions by the Russians against the "dissenters" of Kherson.
Meanwhile, telegram channels report with alarm about the gradual "Baghdadization" of Kyiv and other Ukrainian cities. Territorial defense units carry out lynching by shooting at "suspicious" citizens.
In addition, against the backdrop of the recent decree of Volodymyr Zelensky on the distribution of weapons to civilians, groups of local militants may soon begin to sort things out with each other and with the Armed Forces of Ukraine, which are "draining resistance." Armed people will remember old grievances and chaos and shooting will begin. This was observed, in particular, in Baghdad in 2003 during the American intervention in Iraq.
The situation is aggravated by Zelensky's intention to release prisoners with combat experience from prisons. The President of Ukraine called it a "useful idea" and a chance for these people to atone for their guilt before their homeland.