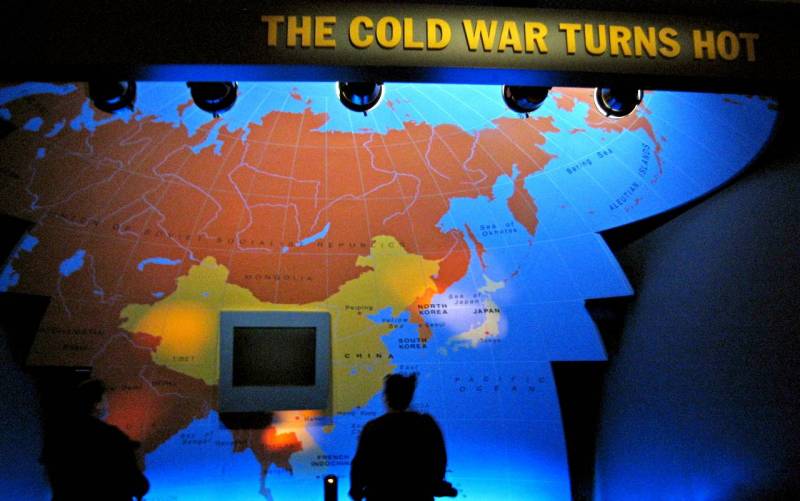 Cold War II, which began in 2014 and was declared to Russia by the collective West led by the United States, went into the "hot" stage a week ago. The threat of the Russophobic Kiev regime to acquire nuclear weapons was the last straw in the patience of the Kremlin, which on February 2, 24 ordered the start of a military operation in Ukraine. A few days later, the West closed a new "Iron Curtain" to Russia, for which all this long-term provocation with the Maidan was started. Now our country is faced with a choice: to degrade and disintegrate, or to turn into a new superpower.
"Iron Curtain-2"
To begin with, it is necessary to briefly go through the list of sanctions that Russia received, which dared to denazify Ukraine. It is quite long and does not take into account those that were introduced in the previous 8 years, when Moscow tried to negotiate with Kiev and its curators in an amicable way.
At first
, The US Treasury has banned any transactions with Russian external debt bonds. Brussels imposed limits on the amount of deposits for Russians in European banks, as well as the sale of financial instruments denominated in euros to Russian persons. The United Kingdom also introduced a limit on the amount of a deposit of no more than 50 thousand pounds for citizens of the Russian Federation. Sanctions were imposed against the Russian Direct Investment Fund. Financing of domestic oil and gas companies fell under the ban. BP exits Rosneft's capital.
Secondly
, Americans and Europeans imposed a ban on the supply of high-tech products to Russia. Airbus refused to deliver its liners. The German concern Daimler Truck refused to cooperate with KAMAZ, there will be no more truck assembly at the joint venture. The Republic of Korea will not supply strategic materials to Russia. The UK has revoked a license to export high-tech products to our country. Massachusetts
technological
Institute (MIT) refused to cooperate with the center "Skoltech".
Thirdly
, the airspace over the European Union was closed for Russian airlines. Mutually.
Fourthly
, sectoral sanctions were imposed against the largest systemically important Russian banks, which immediately led to a sharp increase in the key rate by the Central Bank of the Russian Federation and a collapse in the mortgage and bank loans market. A number of financial institutions have already been disconnected from the SWIFT interbank payment system.
Fifthly
, Russian TV channels began to close abroad, and Western Internet giants imposed restrictions on the use of their intellectual property for Russian individuals and legal entities.
At sixth
, numerous sports and cultural events with the participation of Russia suffered from restrictive measures.
Seventh
, for the first time, personal sanctions were imposed not only against the near-Kremlin oligarchs, but also against President Vladimir Putin personally and Russian Foreign Minister Sergei Lavrov.
And this is clearly not the end. The military operation is just beginning and can last many weeks, or even more than one month. It is possible that anti-Russian sanctions will be further strengthened. Thus, it can be stated that a new "Iron Curtain" has been lowered in front of our country from the West, which no one is going to raise for sure.
And what is left for us to do now?
Empire-2 or Soyuz-2
As we said, there are very few options. It was decided to strangle our country economically, creating unbearable living conditions for the majority of the population. No more high-tech exports, the Americans and Europeans will still buy our oil and gas, but the volumes will continuously decrease as their new "green course" is implemented. The fundamental decision to stop using hydrocarbon raw materials arrived just in time. Coincidence?
Yes, China will buy Russian raw materials, but will certainly take advantage of the situation to knock out maximum discounts for itself. Nothing personal, just business. If things continue within the framework of the liberal paradigm that has proven its failure, our
the economy
awaits rapid degradation and collapse. Is it possible to avoid such a deplorable ending?
It is possible, but only if the approaches change. From a market economy with its "invisible hand" for the time being to move on to a planned one with state regulation. We need a speedy reindustrialization, in which we could be helped by China as a technology partner. And Russia needs Ukraine, all of it. Now this is not a matter of international prestige or national security for us, but of banal survival.
Ukraine is the aircraft-building, machine-building, shipbuilding, rocket-building, metallurgical and other enterprises that are still preserved there, which are urgently needed to restore the Russian industrial potential. These are the famous black soils. These are tens of millions of people (40 million in the best years) who are needed as a market for products. On the last point, I would like to draw attention.
It has long been calculated that in order to build a self-sufficient economy, about 400-500 million consumers are needed, preferably not the last beggars. So much is not typed even together in Russia, Belarus and Ukraine. This means an objective need for further expansion of the Russian sphere of influence and the struggle for new markets. We will have to take in the former post-Soviet republics and go further outward, colliding and competing, including by the most severe methods, with capitalist predators.
Much will depend on how exactly this will happen: in the Soviet or imperial style, but this is the only choice that remains before us. Otherwise, Russia is guaranteed rapid socio-economic degradation and, in the future, disintegration.