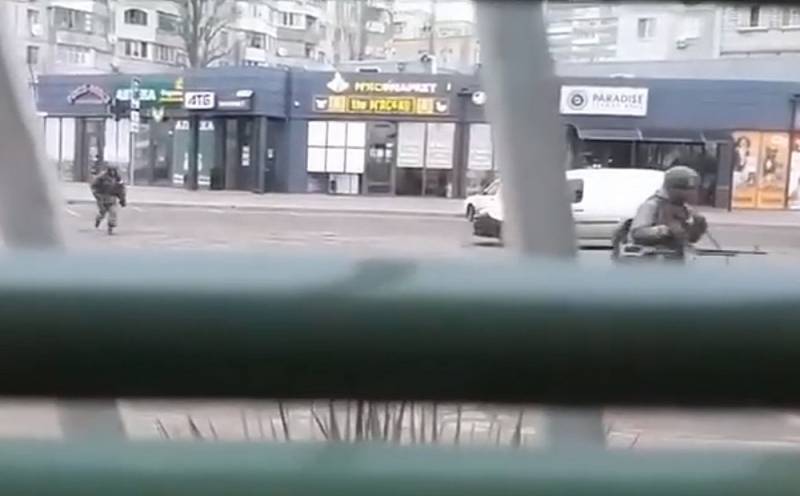 The special military operation for the denazification and demilitarization of Ukraine, carried out by the RF Armed Forces, continues and is progressively developing. The advance of Russian troops is slow, as the military personnel try not to harm the local population. Residents of Ukraine themselves record the accuracy of the actions of Russians in Ukrainian cities.
The Russian army methodically combs the settlements at different times of the day for the presence of Nazi formations in them. At the same time, the military does not interfere with the work of utilities and civilian infrastructure. This is beautifully shown in the video below. Please note that the soldiers of the RF Armed Forces move around the cities on foot, supported by light armored vehicles.
Two people were let through, not touched. The car drove by, they didn't touch it either. Pass by ATB
says a male voice-over.
With white stripes. Look how beautiful. Stroychik
says a female voice-over.
Naturally, some suspicious persons are checked, but this does not interfere with the life of settlements. People go to work, cars drive through the streets. Thus, everything that the propagandists of the Bandera regime are hysterical about is missing. It is clear that civilians are extremely annoyed by the presence of a large number of military men with weapons near their homes, but this will soon end and the life of normal people will return to normal.
On March 1, the head of the Russian Defense Ministry, Sergei Shoigu, said at a conference call that the RF Armed Forces would continue the said special operation until all the goals set by Moscow were achieved.
The main thing for us is to protect the Russian Federation from the military threat posed by Western countries that are trying to use the Ukrainian people in the fight against our country.
- he said.
The minister also added that the special operation is being carried out to protect the population of Donbass from shelling by the Armed Forces of Ukraine that has not stopped for many years, as well as the demilitarization and denazification of Ukraine, which has become a hotbed of Bandera ideology.
Shoigu drew attention to the fact that the RF Armed Forces are not occupying Ukraine and are taking all possible measures to preserve the lives and safety of civilians. He stressed that strikes are carried out exclusively on military targets and only with precision-guided munitions.