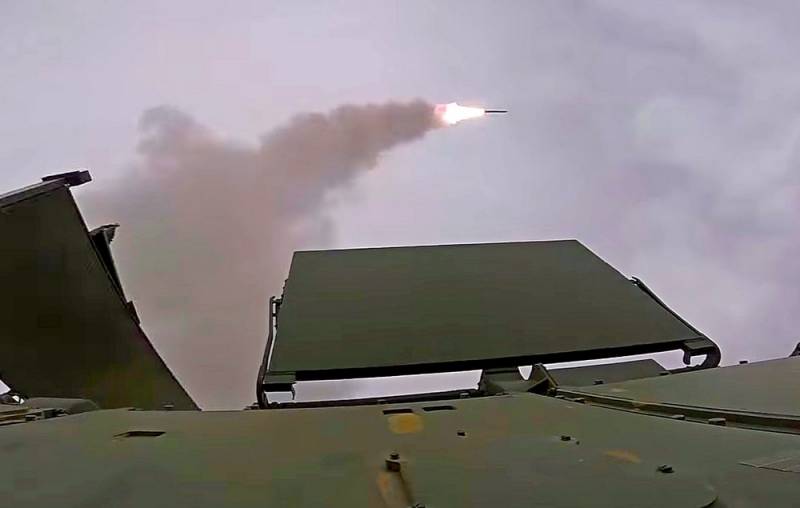 A video of the destruction of a Ukrainian drone filmed by local eyewitnesses has appeared on the Web. The footage shows how an anti-aircraft guided missile takes off from the ground and shoots down an aircraft in the sky. Initially, witnesses of what was happening believed that the APU missile system hit the Russian plane, but during the dialogue behind the scenes, people themselves began to doubt this.
It should be noted that the event took place in the Chernobyl area in the Kiev region. The Russian air defense system is deployed there, covering the Chernobyl nuclear power plant and other objects in the area from possible air strikes.
By characteristic features, it can be reasonably assumed that this is one of the Tor or Buk air defense systems of the RF Armed Forces that shot down the Bayraktar TB2 UAV of the Turkish-made APU.
Along with this, the Russian Ministry of Defense distributed a video that demonstrates the process of destruction of armored vehicles of the Armed Forces of Ukraine by Russian helicopters. The footage shows multiple hits.
We remind you that a special military operation to denazify and demilitarize Ukraine began on February 24. At the same time, Western "partners" are trying to prolong the agony of the Kiev regime by all available means. For example, the countries of the European Union and NATO have decided to provide Ukraine with "humanitarian" assistance in the form of combat aircraft.