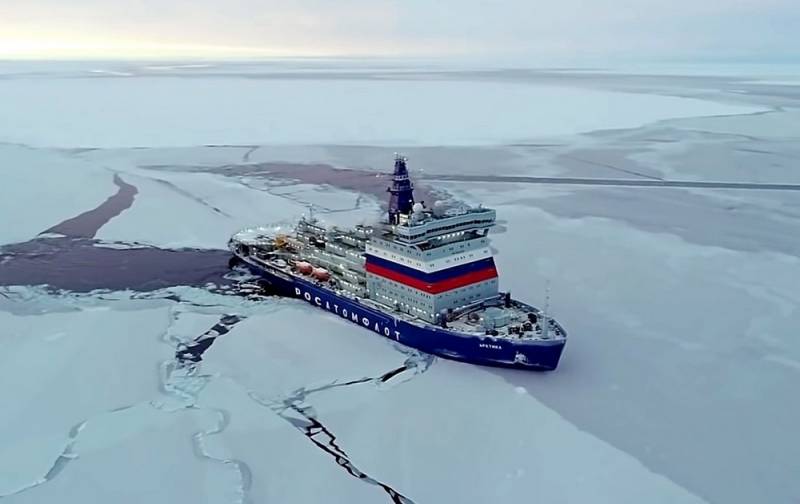 For the first time in history, the Russian lead universal nuclear-powered icebreaker Arktika made a winter escort of small ice-class vessels from east to west.
It should be noted that the East Siberian Sea, where the icebreaker's route lay, is a particularly difficult section of the Northern Sea Route due to shallow depths and hydrometeorological conditions. Thus, the successful piloting of the "winter caravan" through shallow water quite clearly confirmed the unique capabilities of the Project 22220 nuclear-powered ships.
Speaking of the latter. Recently, the Nuclear Fleet received a second icebreaker of this project, more advanced than the Arktika. The nuclear-powered ship "Siberia" is already working on the western section of the Northern Sea Route.
The ship, which has impressive dimensions: a length of 173 meters, a width of 34 meters and a height of 52 meters, is capable of moving through clear water at a speed of up to 22 knots. The maximum ice-breaking capacity of the nuclear-powered ship is 2,5 meters, and the total displacement is 33540 tons.
It is worth adding that the Arktika and Sibir will not be the only icebreakers of the aforementioned project. The following nuclear-powered ships Ural, Yakutia and Chukotka are already being built at the Baltic Shipyard. Their commissioning is expected in the current, 2024 and 2026 respectively. At the same time, this series can be increased up to 7 ships.
However, no matter how powerful the Project 22220 ships look, a serious change is already being prepared for them. In 2021, the Zvezda Far Eastern shipyard laid down the super-powerful nuclear-powered vessel Rossiya of Project 10510 Lider, which will receive a power plant 1,8 times more powerful than that of the aforementioned ships. This will allow breaking through ice over 4 meters thick and laying a channel up to 50 meters wide.