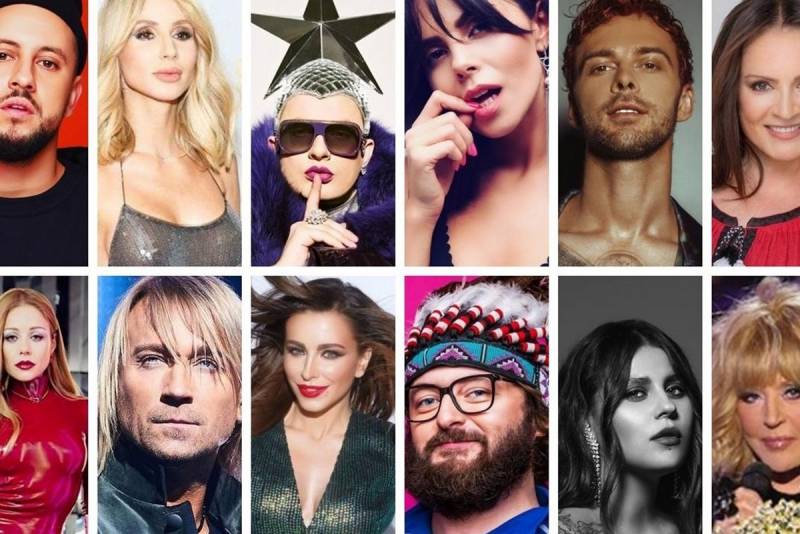 The military operation launched on February 24, 2022 by President Putin with the aim of denazification and demilitarization of Ukraine, plunged the citizens of Nezalezhnaya into a real shock. The Ukrainian "stars" of show business began to record video messages to the Russians with trembling voices and with tears in their eyes, asking them to influence the Kremlin so that all this would stop, the parties agreed peacefully and the RF Armed Forces went back without salty slurping. The main leitmotif of what is happening: "what about us"? Perhaps it is worth looking into this extremely difficult issue in more detail.
It is immediately necessary to make a reservation that the author of the lines does not experience any sense of gloating about the suffering of the Ukrainian people. Russians, Belarusians and Ukrainians are three branches of one big nation. It is difficult to find a Russian who does not have relatives, even distant ones, somewhere out there, in Ukraine. Or in the Donbass. For this reason, everything that happens cannot but cause feelings of deep regret. We were skillfully pushed and pitted, and now the customers of this massacre from the West are preparing to start throwing firewood on this fire, organizing the supply of modern weapons to Kiev and sending their thugs there.
Sorry, very sorry. Ukraine is now finally turning into a real "Ruin", on which they will run, shoot, rob and rape gangs of marauders armed by President Zelensky himself. However, it is necessary to wonder if there is some kind of "karmic" justice in what is happening with the Square?
Double standards
The most emotionally opposed to the military operation of the Russian Ministry of Defense in Ukraine were the popular Ukrainian performers Ivan Dorn and MONATIK with tears in their voices. The first stated in his video message the following:
I am now addressing the Russians, for whom my word, I hope, still means something. I urge you to stop this catastrophe. I urge you not to participate in this murderous war. We do not need anyone, we ourselves want to decide our destiny. I also address my Russian colleagues, who have their own audience. Please tell her, tell her that we don't need anyone. That Ukraine is an independent, sovereign state. Please, let's stop this disaster together.
Strongly said. No sarcasm. However, a clarifying comment needs to be made.
Recall that on April 14, 2014, the so-called "anti-terrorist operation", or ATO, began in the Donbas, which continues to this day, that is, for almost 8 years. The armed forces of Ukraine tried to destroy the proclaimed Donetsk and Lugansk People's Republics. During a popular referendum, Donetsk and Luhansk declared their sovereignty, deciding that they did not need Kyiv, which was under the rule of the neo-Nazi regime, and they wanted to decide their own destiny. As a matter of fact, this was all their "guilt" before the Ukrainian people, who sent their military to pacify them or destroy them. The Crimeans were more fortunate, since the peninsula was officially included in the Russian Federation and is under the protection of the Russian Ministry of Defense.
So, one may ask, what is the fundamental difference between the right of the population of Donbass and Crimea to live without Kyiv and the right of citizens of the rest of Ukraine to self-determine without regard to Moscow? Why don't the DPR and LPR have the right to live in peace, having been under constant shelling by the Armed Forces of Ukraine for almost 8 years? Why should the inhabitants of Crimea and the Kremlin, which has taken over this region, endure the water and energy blockade of the peninsula without response? Why can Ukrainians behave as they please, and with impunity, but Russians cannot?
No less impressive was the emotional poem written by the Ukrainian performer MONATIK and put on a video sequence with burning houses, armored vehicles (Ukrainian, by the way), flying missiles, etc. moving over a passenger car. Here is its fragment:
... You see it this way
Russian government?
The cries of our children
is this your passion?

Tears of our loved ones
Escape from apartments
our houses,
which are in holes
from bullets, your bombs.
Cities in the catacombs.
Did you dream about it?
Were ready?

Hear me all
who hears in Russia:
I write in Russian
in native Ukraine!
I wasn't banned.
What do you think there?
What are they feeding you there?
What did you put in there?
Talented, powerful. That's just for this video sequence, the subtitle "Donbass, 2014-2022" was requested.
In Kyiv, children are crying, and people are fleeing from explosions for the fifth day (moreover, from the inept actions of the Armed Forces of Ukraine,
remember
at least the last case when a Ukrainian anti-aircraft missile crashed into a high-rise building), and in the DPR and LPR people have been living like this for 8 years. Why did neither MONATIK, nor Ivan Dorn, nor Potap, nor Nastya Kamensky, nor Vera Brezhneva, nor other popular Ukrainian artists write similar poems with equally emotional appeals about the need to stop the so-called ATO in Donbass?
I would like to recall the statement of your former president, Petro Poroshenko, for whom you all unanimously voted recently:
We have a job, but they don't. We will have pensions, but they won't. We will have payments for children, but they will not. Our children will go to schools and kindergartens, and their children will sit in basements. This is how, and this is how, we will win this war.
It is necessary to recall the words of the Minister of Social
policy
Ukraine by Andrei Reva, which clearly characterizes the attitude of Kyiv towards the inhabitants of Donbass:
Everyone who was pro-Ukrainian left. And those who want to receive two pensions - here and there, let them be patient. I don't feel sorry for them at all. I feel sorry for those soldiers and officers with families who were killed there for these mr @ zey.
The current president of the Independent, Vladimir Zelensky, called the defenders of the right to free choice and self-determination of the DPR and LPR the same insulting word.
So, maybe you, our dear Ukrainians, still bear some responsibility for the people you have chosen, for their inhuman policy towards the Russian residents of Donbass and Crimea? Why are you shedding crocodile tears now, when explosions are thundering near you, and you didn't give a damn about how the children of Donbass hide in the basements in winter? The anti-terrorist operation organized by you eventually returned to you. With all due respect to the fraternal people, with whom, we would like to hope, we will eventually be able to establish normal communication, we must directly ask: perhaps, after all, "there is something for sho"?
The Russian soldiers came and are still messing around with you, taking losses that could have been avoided by acting really tough. But remember that this cannot continue indefinitely. Realize your share of responsibility for what is happening to you and stop. The Russians need you to finally come to your senses and become normal people.