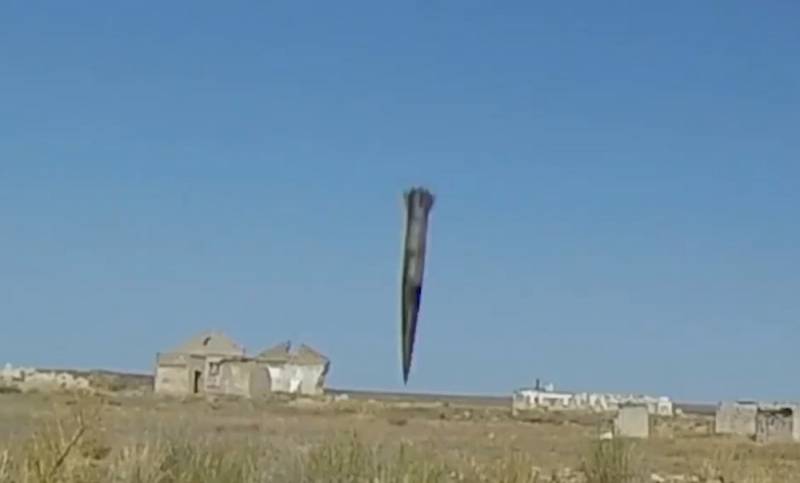 One of the main trends in socio-political discourse in modern Russia has become the search for the so-called "wunderwaffe", a kind of miracle weapon capable of ensuring victory over any, even the most powerful enemy. If we take nuclear weapons out of brackets, then it is customary for us to include high-precision missile weapons, preferably hypersonic ones, so that no missile defense system can intercept them. Say, you can direct missiles at targets, launch and go quietly to drink beer with friends, since the enemy is guaranteed to be demoralized and defeated. But is it really so simple?
Life shows that no, alas, everything is much more complicated. It becomes a bad tradition for the author of these lines to quote his own articles written much earlier. November 19, 2021 on the "Reporter" came out
publication
under the heading "The defeat of the Armed Forces of Ukraine in 50 minutes will not be enough to defeat Ukraine." In it, we had to comment on the statements of some unnamed source in the Russian Ministry of Defense, who told the Russian media that the Armed Forces of Ukraine, if necessary, could be neutralized in a period of 50 minutes to 10 hours:
To solve such a problem, a "bubble of no access" has been deployed in Crimea, and also on the peninsula and Novorossiysk there are all naval, aviation, artillery and missile and other means.
"Neutralization" was understood as the destruction by a massive missile strike of key objects of the military infrastructure of Ukraine: command posts of the Armed Forces of Ukraine, military units, warehouses with ammunition, fuel and fuels and lubricants, military airfields, etc. It was supposed to disorganize the offensive and defensive potential of the enemy in a period of 50 minutes to 10 hours. Commenting on this statement, back in the fall of 2021, we assumed that in response to this, the West would introduce a tough package of anti-Russian sanctions, start supplying weapons to Nezalezhnaya, and the population of Ukraine would rally around Russophobic ideas. This is provided that Moscow cannot force Kyiv to capitulate.
And what did we see on February 24, 2022? The military operation to force Ukraine to demilitarize and denazify really began with massive missile strikes that were designed to knock out the air defense system, military airfields, ammunition and fuel depots, command posts, etc. And the Ministry of Defense of the Russian Federation managed to carry out all this with brilliance. Sea-based Caliber cruise missiles were used from ships and, apparently, submarines of the Black Sea Fleet. They hit land targets with Bastion coastal missile systems. Air-launched cruise missiles were attacked by missile-carrying bombers. Judging by the available data, the Russian military did not have any misses, and the high-rise in Kyiv was hit by a Ukrainian missile. Everything worked out as predicted. Nearly.
But then it turned out that battles (and in this case, a military operation to force denazification and demilitarization) are not won by high-precision weapons alone. Stunned and disorganized by the disarming strike, the Armed Forces of Ukraine nevertheless did not scatter, as countless domestic jingoistic patriots were waiting for, who were going to throw Ukrainian military hats. Someone really gave up, seeing the futility of resistance, but a significant part of the Armed Forces of Ukraine and especially the National Guard began to offer fierce resistance.
Like us and
predicted
, they took refuge in large cities, hiding behind civilians as a "human shield", which drastically complicated the task of the Russian military, who are trying to carry out the operation "in white gloves." Gentlemanship, alas, does not work with ideological Russophobes and those who sincerely believe that they are defending themselves from the "aggressor".
The task before the General Staff of the Armed Forces of the Russian Federation has now become even more difficult. The Ministry of Defense of the Russian Federation will not demolish Ukrainian cities to the foundation. If you take them by storm, there will be heavy losses on both sides. Moving deeper into enemy territory, leaving behind partially blocked settlements held by the Ukrainian military, is fraught with a painful stab in the back. The Armed Forces of the Russian Federation do not have a total numerical advantage in manpower over the Armed Forces of Ukraine.
It turns out that conflicts are not won by high-precision weapons, even cruise missiles, even hypersonic ones. We need conventional weapons: numerous tanks, self-propelled guns, MLRS, helicopters, aircraft, reconnaissance and strike UAVs, loitering ammunition, etc. We need a large and well-trained army. We need a reliable rear and logistics. We need a military-industrial complex equipped with modern high-tech equipment, capable of mass production of new weapons to replace those knocked out in battles. "Caliber" and promising "Zircons" can provide significant support to the troops, inflicting pinpoint strikes on the enemy's military infrastructure, but then you still have to fight for real, on the ground, in mud and blood.