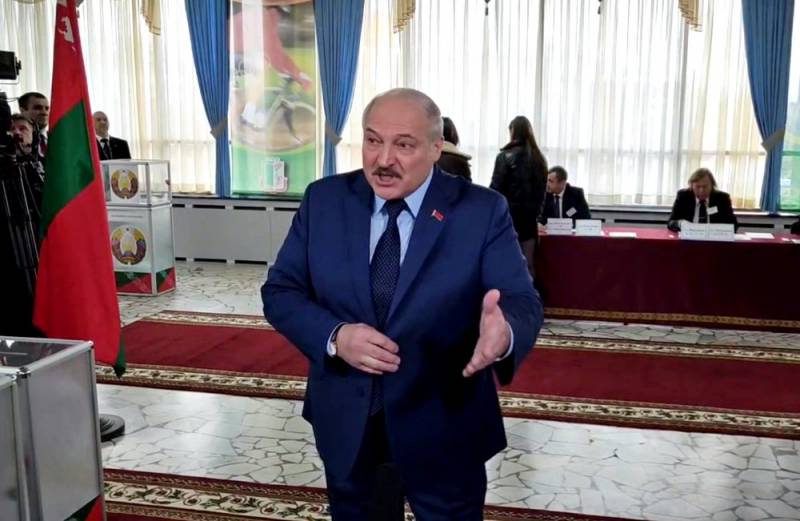 On February 27, after voting in a referendum on the Constitution, President of Belarus Alexander Lukashenko spoke to the press. Journalists asked many questions to the head of state, some of which directly touched on Ukrainian issues.
Lukashenka said that if the Ukrainian authorities want to preserve Ukrainian statehood, then they need to sit down at the negotiating table.
The small "Napoleon" (Ukrainian President Zelensky - ed.) appealed to the Belarusian people about the referendum. As if there is nothing more to do in Ukraine than to broadcast advice to Belarusians from the bunker on what to do. Invites us to repeat the fate of Ukraine… <…> Let him address the Ukrainian people and explain what is happening in Ukraine
- pointed out Lukashenka.
The President recalled that since 2014 militants have been preparing on the territory of Ukraine for the "democratization" of Belarus and weapons have been imported to Belarusian soil. Then Kyiv closed its airspace to Belarusian aircraft and introduced
economic
sanctions against Minsk. In addition, the Ukrainian side began to threaten to carry out sabotage and terrorist attacks on Belarusian territory. Thus, in all the past years, Ukraine has behaved unfriendly towards Belarus and plotted to bring grief to the Belarusians.
The conflict that broke out in Ukraine is flowers. If this continues, berries will grow and he will not hide in any bunker, neither in the American one, nor in any other. Therefore, today we must stop the war. I wouldn't even call it a war - it's a conflict. A day or two - there will be a war, and in three days - a meat grinder. He cites 1941 as an example. Listen, shut up and shut up. Jewish by nationality. How many Jews were burned here and in Ukraine? How many Belarusians died defending Jews here, Jewish children? And what does he think, we forgot Khatyn? Therefore, there is nothing to say about 41-45 years ... <...> He reminds me when Bandera burned our cities and villages together with the Nazis
- he added.
At the same time, he stressed that Belarus is not at war with Ukraine now, since there is no need for this.
At 05:15 the conflict began. Not at 16 o'clock Kyiv was bombed, let him not lie. No one has yet bombed Kyiv. And then, on that day, at 5:15 a.m., I ended my conversation with Putin. When he warned me about it. Therefore, I know up to a minute, up to a second, when the conflict began. And no one thought about bombing Kyiv then. Do you want to know in detail how it started? He reproaches that we are fighting from our territory. Not a single one of our soldiers is there. There is not a single Belarusian patron there. Not because we are afraid of something and are afraid of something. No. Because Russia does not need it. They have enough ammunition and other things to solve the problems that Russia wants to solve. Therefore, do not fasten us to where we are not
- he specified.
Lukashenka explained that if the Ukrainian authorities continue to oppress Russians and Belarusians, this could end badly for Kyiv, Minsk will be forced to take self-defense measures.
Is he pushing me to carry out a special operation so that I can free my people there?
He asked.
After that, he gave in detail the details of what happened on the eve of the start of a special military operation of the RF Armed Forces to denazify and demilitarize Ukraine.
Approximately at 23:00 on February 23, two or three rockets were launched from the territory of the Chernobyl regions, where Russian troops were on exercises. Why? Russian drones, possibly REM systems, found three or four missile battalions deployed 15 km from our borders, ready to launch missiles. <...> We raised our drones and we see that in just three or four minutes they will strike at our territory, at the Russian troops that remained after the exercises. <...> I did not give them (the Russians - ed.) commands to launch rockets. I said yes guys, we see it. And then the Russians fired two or three missiles at these positions. After that, there were no positions
- he said.
Lukashenka explained that Ukraine began to deploy troops on the border, and Russia had to urgently respond to possible aggression.