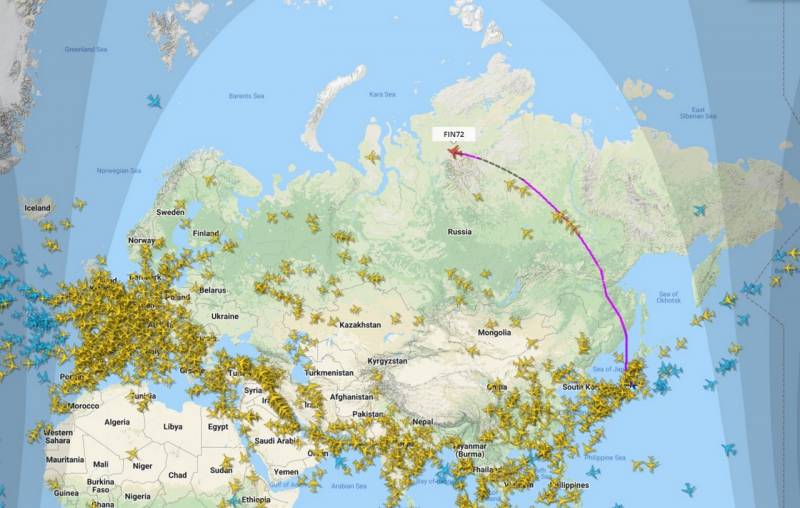 After Russia launched a special military operation to denazify and demilitarize Ukraine, many Western countries decided to close their airspace to Russian airlines. The initiator was the UK, which has already been joined by Poland, the Czech Republic, Slovenia, Slovakia, Bulgaria, Romania, Estonia, Latvia, Lithuania and Finland. Germany and a number of other EU states are thinking about it.
In response to anti-Russian sanctions, the Federal Air Transport Agency announced mirror measures - the closure of the skies of the Russian Federation for air carriers from those countries that have introduced restrictions. After that, for most European airlines, the duration of flights to Asia, as well as the cost of tickets for passengers, increased significantly.
So, from London to Tokyo it will now be possible to get in 17 hours and with a change in Alaska. Previously, this direct flight took 9,5 hours. This applies in principle to all flights to Asia, to such financial and tourist centers as Shanghai, Bangkok, Taiwan, Seoul, etc.
You only need to look at the map to understand what the effect of this will be. The aviation of the countries that supported the sanctions will have to fly around Russia, which occupies half of the Eurasian continent. Naturally, flights through Europe will also become more difficult for Russia. For example, to get from Moscow to Kaliningrad, now you have to make a significant detour, flying through St. Petersburg, the Gulf of Finland and the Baltic Sea. However, this is not so serious for the Russian Federation.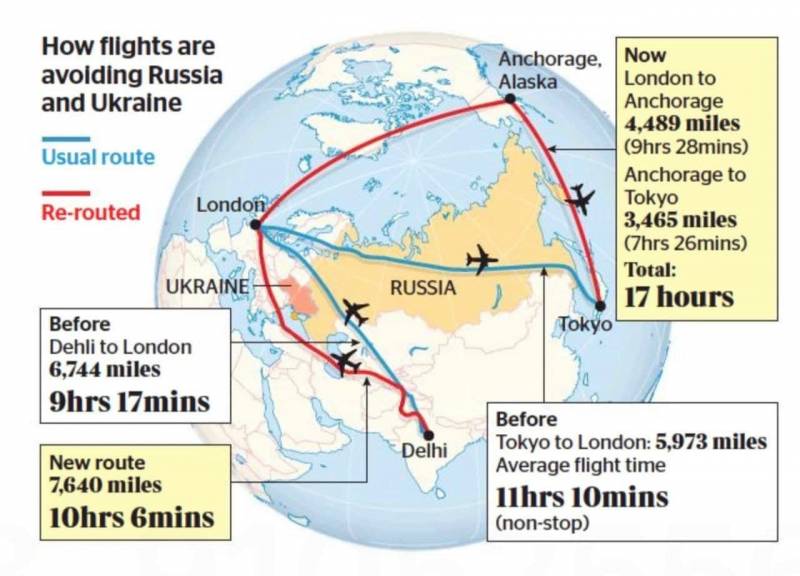 Another, more serious problem for Moscow has arisen in the field of air transportation. The EU decided to ban the leasing of aircraft for Russia and demanded that the aircraft be returned to their owners. This applies to Airbus products. At the same time, the United States has not yet introduced a similar measure, so this does not concern Boeing. It should be noted that 2/3 of the entire fleet of Russian air carriers is the leasing of aircraft manufactured in the US and the EU, as well as in Canada and Brazil.
However, leased aircraft can be bought out by Russian companies. In addition, if the Americans do not join the Europeans, then the Russian market will simply go to Boeing. Information noise from this will be significant, but consumers and air carriers will suffer minimally.