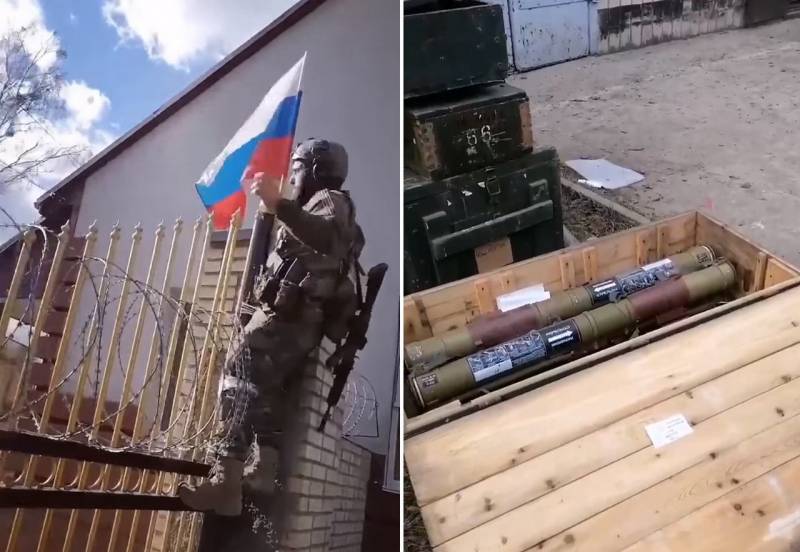 The base of the special forces of the National Guard of Ukraine (military unit 3018 - the 4th operational brigade) in Gostoml near Kiev was taken by the Chechen special forces. The servicemen of the FSVNG in the Republic of Chechnya removed the Ukrainian flag from the gates of the military facility and installed the Russian tricolor, as well as the banner of their unit.
In the video below, the fighter said that they fought off several attacks by the Ukrainian military, but held the object.
Chechen fighters captured many trophies, including armored personnel carriers and anti-tank systems.
At the same time, the head of Chechnya, Ramzan Kadyrov, confirmed the deployment of units from the region of Russia he leads in Ukraine during a special military operation for denazification and demilitarization. At the same time, he drew attention to the fact that well-equipped Chechen forces have not yet suffered any losses on Ukrainian territory.
Capturing cities like Kyiv or Kharkov is not a problem. But the task is to avoid human casualties and to carry out the operation carefully.
Kadyrov stressed.
We remind you that at the end of December 2021, Kadyrov, in his usual manner,
proposed
solve the "Ukrainian issue" once and for all, putting an end to this issue. He then warned the Ukrainian authorities that Kyiv's attempt to resolve the conflict in Donbas by force could end badly for the statehood of Ukraine.