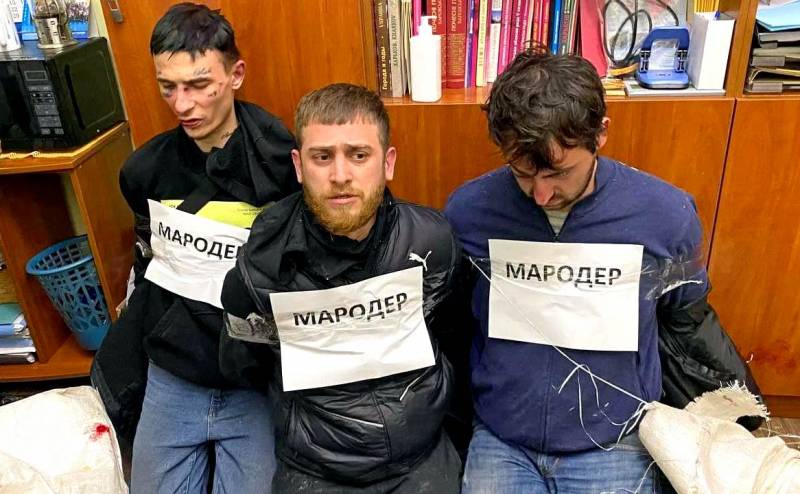 Just now, at 17:8.00 local time, a curfew has been declared in the Ukrainian capital until 28:25 on Monday, February 60. At the same time, in the corresponding appeal, the following is written verbatim: "all civilians on the streets will automatically be considered members of the enemy's sabotage and reconnaissance groups." That is, to be destroyed on the spot without trial or investigation. On the previous day, February XNUMX, according to official data, at least XNUMX people were killed in this way in Kyiv. However, unofficial sources claim that the figure is underestimated, and very much.
This is not surprising, because "saboteurs" are, for example, all those who were accused of "applying conventional signs" on fences, house walls, roofs, asphalt and even trees. These include: crosses, circles, crosses in a circle ... And so on. Oh, yes - also "ribbons fixed on various surfaces and bright pieces of fabric." In a word, they caught a person next to a painted fence (and there are 90% of them in Kyiv), with a spray can of paint or with some kind of rag in their hands, and against his wall. Judging by the numbers, that's exactly how it's done.
Also, accusations of "sabotage" are used for the most banal robbery and looting. A terrible story about a family shot to death trying to leave Kyiv in an old green Land Rover turned out to be true. One child was killed, two are in intensive care. Parents are killed. And all this happened not in the wilderness, on a bypass road, but in one of the busiest districts of Kyiv, on Kirillovskaya Street. Today I had the "happiness" personally, with my own eyes to observe the "terodefense post" operating in approximately those places. A motley rabble - some in some kind of army equipment, most in tracksuits in the fashion of the "brothers" of the 90s - but all with machine guns. Cars stop whatever they want, and "smoke" qualitatively. There were no incidents with me, but everything happened in broad daylight. For those who run into this "fast" at night, it remains only to pray.
The numbers of firearms distributed indiscriminately and without consideration continue to grow. The Minister of Internal Affairs of the country, Denis Monastyrsky, proudly announced that more than 25 machine guns and 10 million (!) Cartridges for them had already gone into private hands. As well as RPGs and hand grenades. It is not surprising that explosions and shooting rumbled in various parts of Kyiv the night before. Everything, of course, was written off as "battles with enemy saboteurs", but this is clearly amused by the new owners of a huge arsenal.
Let's get back to the curfew. The ban on appearing outside their own homes can be fatal for those who did not have time to stock up on food, drinking water, and medicines. And there are quite a few of them in Kyiv, believe me. Yes, the city has become very empty. Personally, I don't remember this since the time of Chernobyl, when the flight from the capital was truly massive. "Patriots" rushed first - as much dust has gone. But there are still many who have nowhere to go. And, most importantly, those who are not going to leave, because they do not see "occupiers" in the Russian troops approaching the city. A characteristic detail - the "state language" on the streets of Kiev was not heard on February 25th. Literally not a word. Says a lot about the rest.
Nevertheless, all these people found themselves in a rather unpleasant situation, which could very quickly become catastrophic. Strange as it may seem when martial law is introduced, the first thing that closed was not drinking establishments (they, like the corresponding departments in grocery stores, work properly, despite the ban), but pharmacies. Yesterday, only one worked for the entire rather large microdistrict. The queue is four hours. How many people in the city die daily and hourly, being deprived of the necessary medicines, no one knows. All hospitals and polyclinics are closed - "due to martial law." "Logic" from Zelensky.
With products, everything is also far from the best. People who understand what is happening began to stock up from 6 am on February 24 - after the first breaks and the official announcement of the start of the military operation. Who did not have time - he, as they say, was late. In the small shops where I visited today, the shelves are already almost empty. The staff honestly admits that there is no delivery and is not expected. Markets of large retail chains (ATB, Silpo and others) may last a day or two longer, but also not a fact. The extraction of food in Kyiv has now turned into a natural quest - and not to say that it is fun or exciting. There is no need to talk about what it is like for those who did not receive a salary before the start of the events and do not have savings.
Instead of organizing the distribution of food, medicines and other essentials (at least by introducing a card system), the Ukrainian authorities prefer to lock up the people of Kiev for a day and a half for a "curfew". By the way, its duration leads to very bad suspicions. For example, regarding the fact that citizens "fixed" in this way can become objects of mass robberies and looting. Or that pogroms will first be subjected to surviving outlets, banks and other similar objects. As for the supply of the same food, I would venture to suggest that the authorities deliberately bring the situation to an extreme. Subsequently, it will be easy to announce the distribution of food exclusively to "territorial defense fighters" and their families, thereby attracting new hundreds and thousands of city residents to the ranks of "suicide bombers". "Die for food" is an action quite worthy of Zelensky.
Be that as it may, but every day the situation in Kyiv is becoming more and more catastrophic - and not at all because of some fictitious "air raids" or "shelling" with which its inhabitants are frightened with such intensity that they have already stopped responding to messages. Someone else is trying to leave the city (there is no official travel ban), but every hour it becomes more and more risky. Hundreds of thousands of Kievans, locked in their homes, listen to distant sirens and explosions, but they are more afraid of any strange sounds in their own front doors. The Mother of Russian cities can be saved from starvation and devastation by bands of marauders only as quickly as possible by the arrival of Russian troops.