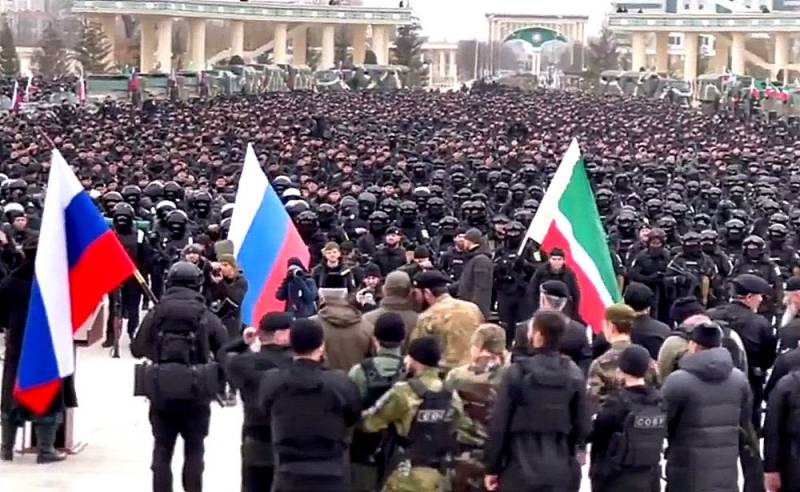 In the center of Grozny, a gathering of servicemen from various units of the Department of the Federal Service of the National Guard Troops in the Chechen Republic and the Ministry of Internal Affairs in the Chechen Republic was held. It was estimated that from 10 to 15 thousand fighters took part in it. The head of the republic, Ramzan Kadyrov, addressed the military and guardsmen.
I declare officially that the hottest spots in Ukraine will be occupied by Chechen fighters, fighters who serve on the path of Akhmat-Hadji Kadyrov. If you really want to meet us, then you are welcome to meet us there.
- Kadyrov addressed first of all the nationalist battalions in the Armed Forces of Ukraine.
The head of Chechnya recalled that Chechens, like no one else, have experience in fighting terrorists and various armed gangs.
Once we destroyed terrorism. Not just terrorism - terrorists were trained by strong institutions, strong states
- said Ramzan Kadyrov.
He also suggested that Vladimir Zelensky immediately call Vladimir Putin and apologize.
In turn, the Minister for National
policy
, foreign relations, press and information of Chechnya Amed Dudayev commented on the mass gathering of Chechen military personnel in Grozny:
Fighters of the Chechen Republic are taking part in the ongoing special operation in Ukraine and will be present and take part in the hottest spots in Ukraine. From his speech, we understand that our fighters are already there.