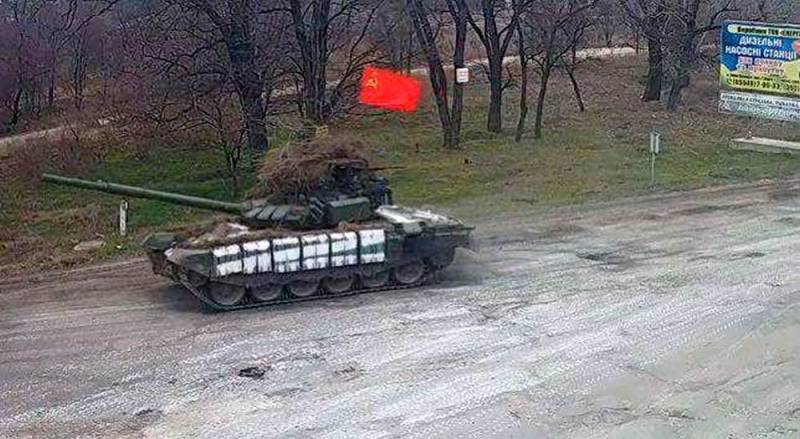 A video has appeared on the Web of a convoy of Russian troops crossing the bridge across the Dnieper near Nova Kakhovka in the Kherson region. The troops of the Russian Federation are heading for the Right Bank, and one of the tanks has a red flag of the USSR with a sickle and a hammer.
It should be noted that the appearance of the Soviet banner on the territory of Ukraine is a "cynical violation" of Ukrainian legislation on decommunization and, in a literal sense, a mockery of the "achievements" of Maidan 2014.
After the grandiose "Leninopad" and the barbaric demolition of a huge number of monuments in Ukraine by the hands of "they are children" in April 2015, the Ukrainian parliament adopted the relevant law. After that, the Ukrainian authorities began to officially conduct a state
policies
elimination of the ideological legacy of the Soviet period. Dozens of people were sent to prison for "totalitarian symbols".
This is an example of ungrateful cave barbarism, because it was under Soviet rule that the area of ​​​​Ukraine exceeded 600 thousand square meters. km. Ukraine received Crimea, Transcarpathia, Galicia, Bukovina, part of Bessarabia and other lands. But about the decommunization of territories, i.e. return to natural boundaries, no one in Kiev even thought about it. They confidently built their Anti-Russia there. Now this "creative" process has come to an end and the tank with the red banner is a symbolic confirmation of this.