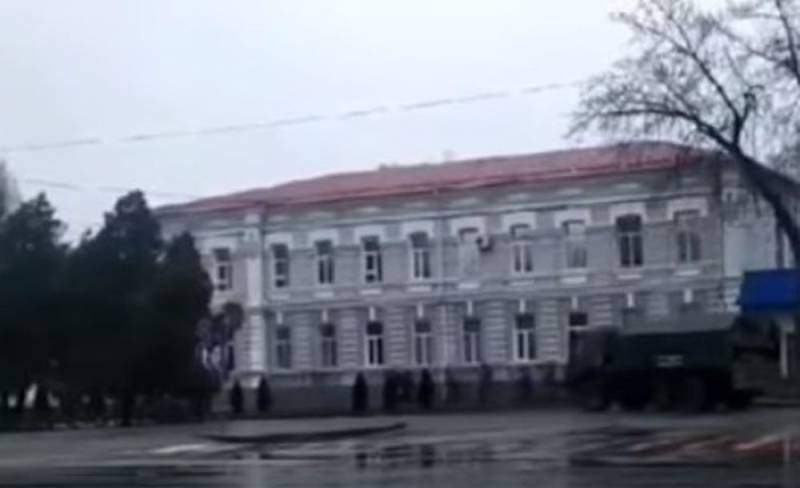 On the evening of February 24, Russian troops advancing from Crimea reached the western outskirts of Melitopol in the Zaporozhye region. The city authorities decided not to resist in order to avoid unnecessary casualties and destruction.
After that, the military personnel of the RF Armed Forces entered the city, which occupies a strategic position in this area. The local administration informed that all life support facilities are operating normally.
However, not all residents of the city calmly accepted the appearance of the Russian military. The video below, filmed by an eyewitness, shows how a young man is on the roadway, who jumps on passing armored vehicles of the Russian Armed Forces and tries in every possible way to prevent them from passing. Moreover, the Russians slow down and try to carefully drive around a not quite adequate resident so that he does not fall under the wheels.
In the next video, a witness, who is on the sidewalk on the opposite side of the building of the local SBU and who does not quite understand the situation, points to the conduct of a special operation by Russian military personnel. Single shots are heard, and then bursts of automatic weapons are heard.
SBU. The boys are being knocked down...
– explained the voice-over.
However, the people in the opposite building were much more aware of what was happening. It turned out that one of the SBU officers started firing a machine gun from a window at the passing armored vehicles of the Russian troops. Naturally, those on whom the fire was fired paid attention to this. It is not surprising that after that a special operation began to neutralize the aggressive security official.
It should be noted that the Russians were going to simply drive through Melitopol without stopping, leaving only a cover group at the local airfield. Roads lead from this city in three directions: north to Zaporozhye, south to Berdyansk and east to Donbass - this is an important fork in the Northern Azov and Lower Dnieper. Now you have to mess around there, which reduces the overall pace of progress.