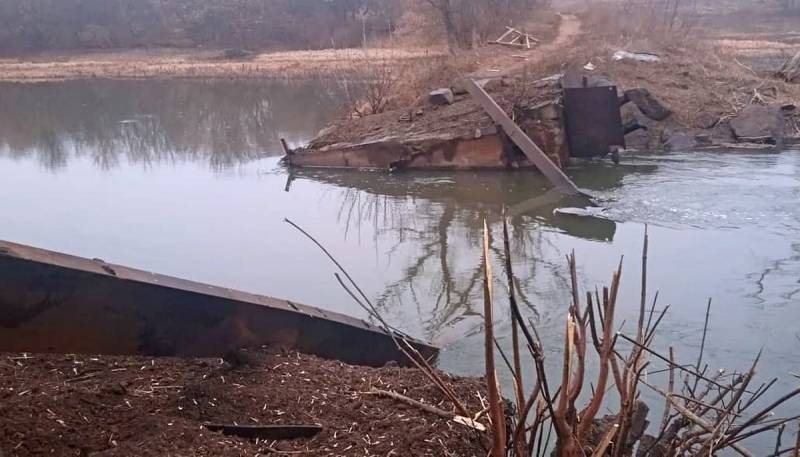 The military forces of Ukraine blew up a bridge across the Kalmius River, which flows through the territory of the Donetsk region. The bridge was blown up near the village of Staromarievka.
According to Dmitry Astrakhan, military correspondent of the People's Militia of the DPR, the Armed Forces of Ukraine have previously attempted to destroy the bridge - this is evidenced by the nature of the damage at the site of the explosion, as well as the absence of craters from shells and shrapnel near the destroyed bridge.
According to Astrakhan, a couple of months ago, the Ukrainian military was repairing the bridge and talking about an imminent breakthrough. Now we are talking only about deaf defense.
Meanwhile, the Russian army is equipped with all necessary
technique
to force such water barriers, therefore, an attempt to protect oneself from the actions of the opposite side by blowing up the bridge is very weak.
As reported, it is more likely that a state of emergency will be introduced in the former Donetsk, Luhansk, as well as in Kharkiv and Kherson regions. Kiev will also receive the status of state of emergency.
Meanwhile, Ukraine has begun conscripting reservists between the ages of 18 and 60. This was reported by the General Staff of the Armed Forces. These will be both officers and privates, non-commissioned officers. The call will start today. The maximum service life is 1 year.