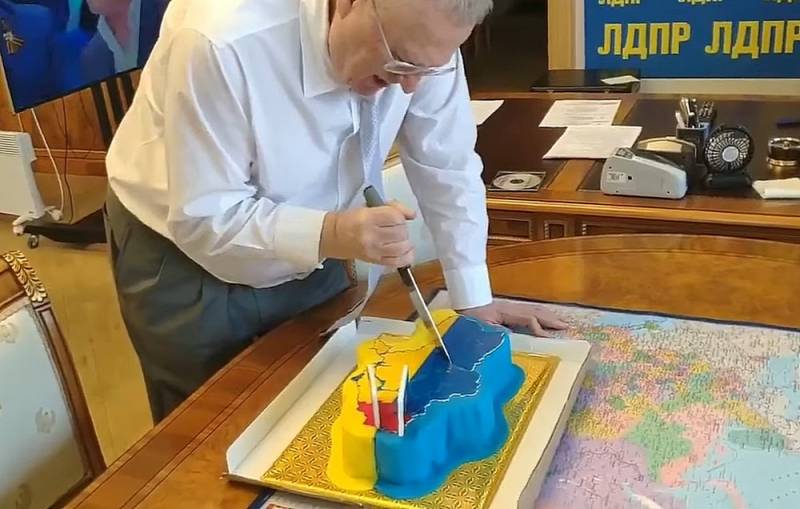 After Russia recognized the independence of the LPR and DPR, netizens drew attention to the prophetic words of the leader of the Liberal Democratic Party Vladimir Zhirinovsky, which concerned Ukraine's failure to comply with the Minsk agreements on Donbass and were said by him on December 27, 2021.
I said this, how to talk to them, what to demand from them. You don't have to rattle your weapons. You have to say, "Let's do it. Refuse. Then we can accept another program. And what, you will feel. At 4 o'clock in the morning on February 22." I would like 2022 to be a year of peace, but I love the truth, I have been telling the truth for 75 years, this will not be a year of peace. This will be the year when Russia will finally become a great country again and everyone should shut up and respect our country. Otherwise, they will shut our mouths and will exterminate the Russians, first in the Donbass, and then in Western Russia. So let's support the new direction in the external
policy
Russia!
Zhirinovsky said.
What the LDPR leader said came true, which caused a wave of positive reactions in Russian society. Social media users wished a speedy recovery to the politician who is in the hospital. They recalled that just during his speech in the State Duma on December 27, 2021, the flywheel of informational hysteria of the West was spinning about the "inevitable Russian invasion of Ukrainian soil", which makes his prophecy even more epic.
Other users did not enter into controversy, but recalled another video with Zhirinovsky, on the frames of which he cut a cake in the form of Ukraine, celebrating his birthday in 2019. In their opinion, this Zhirinovsky's forecast about the imminent division of the "Independent" may come true.
We leave Ukraine 1/3, and 2/3 is all Russia (Novorossia and Little Russia)
- Zhirinovsky clarified then.
>
Indeed, in the light of Putin's earlier words about the territories once donated to Ukraine, such a prophecy by the leader of the Liberal Democratic Party does not seem so fantastic.
As a result of the Bolshevik policy, Soviet Ukraine arose, which even today can with good reason be called "Ukraine named after Vladimir Ilyich Lenin." He is its author and architect. This is fully confirmed by archival documents, including Lenin's harsh directives on the Donbass, which was literally squeezed into Ukraine. And now "grateful descendants" have demolished monuments to Lenin in Ukraine. They call it decommunization. Do you want decommunization? Well, that suits us just fine. But it is not necessary, as they say, to stop halfway. We are ready to show you what real decommunization means for Ukraine
Putin said earlier.