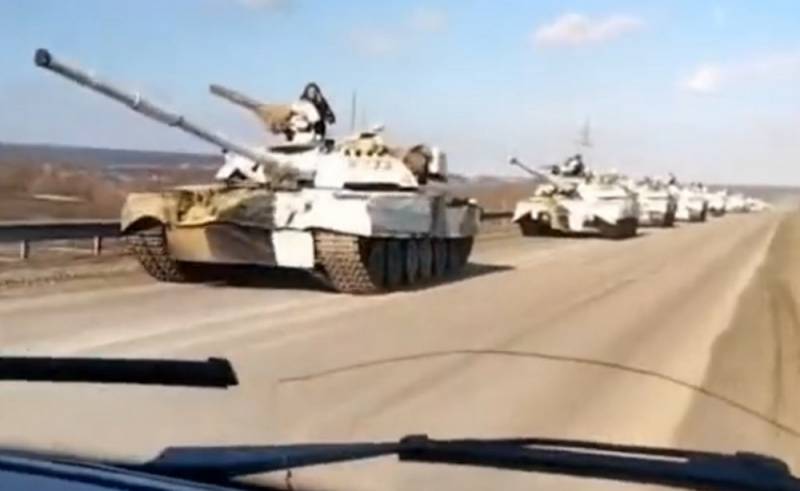 A video from an eyewitness appeared on the Web, the footage of which documented a convoy of 56 Russian highly mobile T-80 tanks and other armored vehicles heading towards the western border of the Russian Federation in the Belgorod region of Russia. And
technique
has a winter coloring, i.e. camouflage is appropriate for the season, but differs from the weather conditions in the area. However, repainting is not a problem, and in some places there is still snow on the fields.
Users noticed that the video shows a reinforced tank battalion, which represents a serious force. At the same time, they recalled that a large grouping of the RF Armed Forces was concentrated in the mentioned region near the Russian-Ukrainian border. It was also noted that this
direction
to Kharkov, as well as the possibility of bypassing from the north the entire grouping of the Armed Forces of Ukraine in the Donbass, which is concentrated near the independent states recognized by Russia - the LPR and the DPR, where a large number of Russians in need of protection live.
The day before, in the same Belgorod region, just 10 km from the border with Ukraine, there were
recorded
Russian tanks with special visors to protect against American FGM-148 Javelin anti-tank systems, which Washington carefully supplied Kiev. On the armor of these tanks there are also tactical signs Z, which we informed
earlier
.