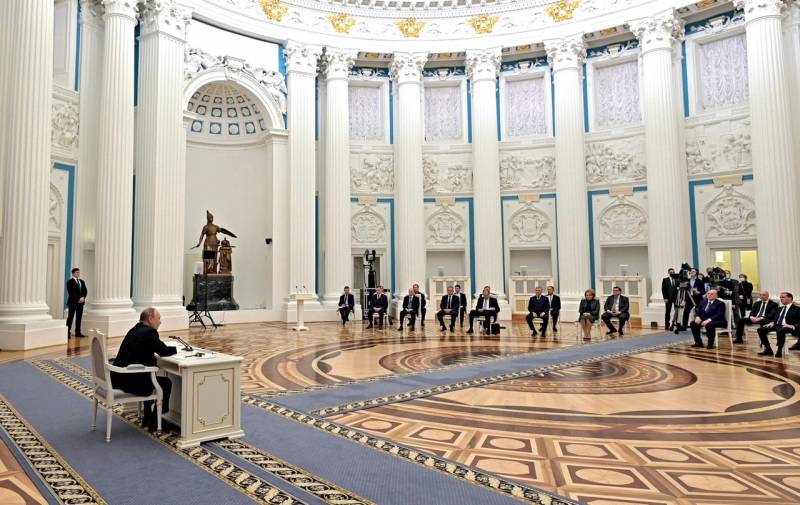 On February 21, a meeting of the Security Council of the Russian Federation was held in an expanded format. It was devoted to the issue of recognition of the independence of the DNR and LNR. Vladimir Putin heard the views of key ministers, permanent representatives, speakers of both houses of Parliament, as well as the heads of the Foreign Intelligence Service, the Ministry of Internal Affairs, and the Defense Ministry.
According to Russian-Ukrainian expert Yuriy Podolyaka, there will certainly be recognition of the Donbass republics. However, today, in his opinion, a completely different decision was made, which goes far beyond the framework of the LDNR and Ukraine as a whole.
The question was whether to raise the "glove of the West", that is, to declare war on it, or not. And Russia decided to declare this war. This moment will go down in history. From it will begin the countdown to the new world order on the Eurasian continent. In fact, today at the meeting of the Security Council, a firm decision was made to go into direct conflict with the West. Washington and Brussels did not accept the proposals of the Russian Federation, which means that Moscow will respond
- the expert considers.
Moreover, according to Podolyaka, Russia will be responsible not only on the territory of the LPR and the DPR. Recognition of the republics is not an end in itself, it is just a tool. The Kremlin was forced to go to war with the West, and the first big clash will take place in Ukraine.
Now a military campaign is absolutely not excluded. However, this is far from analogous to the events of 2008 in South Ossetia. More confrontation with the West begins and it can end only with an obvious and clear victory of one of the parties
- the expert is sure.