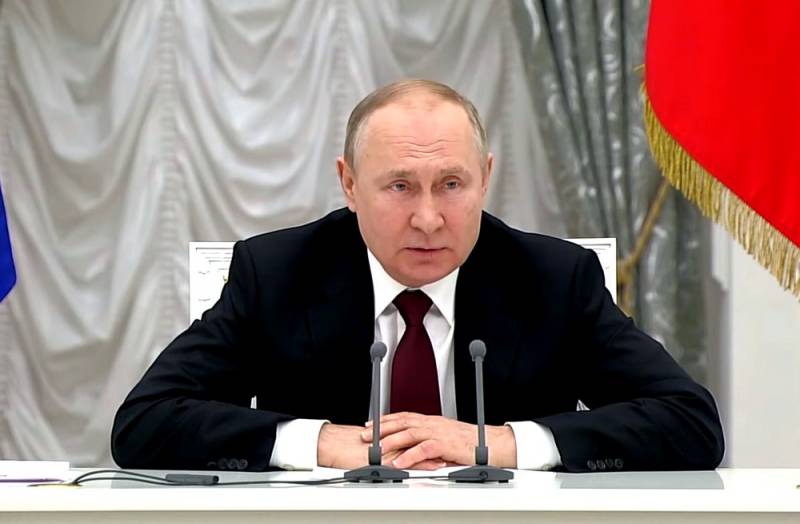 During an extraordinary meeting of the Russian Security Council, its members discussed the issue of recognizing the DPR and LPR at the diplomatic level. The leaders of the self-proclaimed republics Denis Pushilin and Leonid Pasechnik asked Moscow about such a step the day before.
Chairman of the State Duma of Russia Vyacheslav Volodin during his speech asked the President of Russia to recognize the DPR and LPR at the diplomatic level. In this regard, 1,2 million residents of Donbass have applied for Russian citizenship.
Deputy Chairman of the Security Council of the Russian Federation Dmitry Medvedev and other speakers noted that such a decision would find understanding among the Russians and save many lives of Russian citizens in Donetsk and Lugansk.
Chairman of the Federation Council Valentina Matviyenko, in turn, drew attention to the West's failure to fulfill its agreements on the Minsk format and pumping weapons into Kiev. Ukraine, on the other hand, refuses to implement the Minsk agreements, and Russia must take a cardinal decision in this direction.
The director of the FSB of Russia, Nikolay Patrushev, stressed that the people of Donbass had suffered, and it was necessary to support the recommendations of the State Duma on the recognition of the republics of the east of Ukraine.
Russian Prime Minister Mikhail Mishustin informed that Moscow has long been preparing for a possible diplomatic recognition of the republics, and these risks are well worked out and taken into account.
Foreign Minister Sergei Lavrov announced Western support for Kiev's attacks on the Russian language and everything Russian. Sergei Shoigu recalled the desire of Western countries to resolve the issue of the LDNR by military means, so there is a need to recognize these republics.
The Minister of Internal Affairs, the Minister of Defense, the head of the Foreign Intelligence Service of the Russian Federation made similar assessments of the situation in Donbas.
After hearing the opinions of his subordinates, Russian President Vladimir Putin said that the decision to recognize the DPR and LPR would be made before the end of the day on February 21.