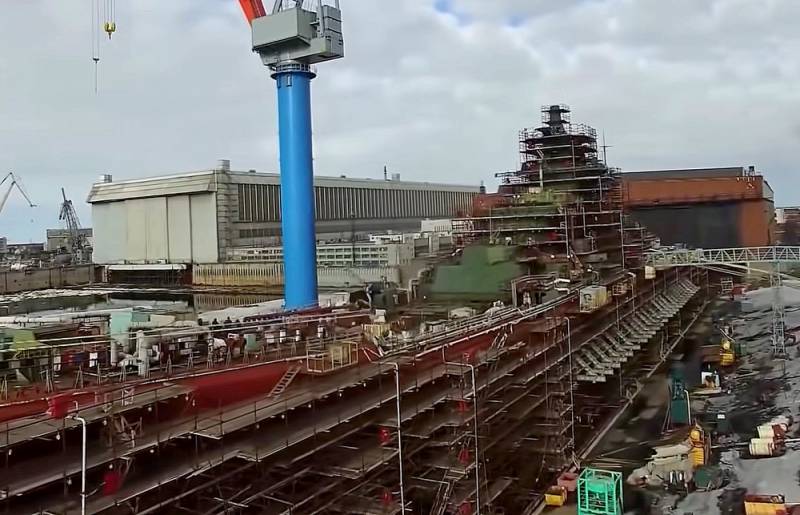 On the heavy nuclear missile cruiser of the Northern Fleet "Admiral Nakhimov", which is undergoing a deep modernization, the formation of the crew has started. It is reported that about 1000 specialists from all Russian fleets will serve on the ship.
Recall that a series of heavy "Orlans" about 250 meters long were laid down at the Leningrad "Baltic Plant" back in 1973. In 1988, "Admiral Nakhimov" became part of the Northern Fleet of the USSR. The ship made its last major passage in 1997.
Since 1999, the heavy missile cruiser has been under repair.
The current update of Nakhimov, in fact, led to the birth of a new ship. After all, almost all systems, equipment and weapons were replaced on it.
The cruiser's universal ship-based shooting systems can be equipped with Caliber, Onyx, and even the latest hypersonic Zircons. The air defense complex "Polyment-Redut" allows you to hit air targets at a distance of about 150 km.
In turn, the universal artillery system AK-130 with a rate of fire from 20 to 86 rounds per minute allows you to fire from twin barrels at sea and coastal targets at a distance of up to 25 km.
It is worth adding that the ship will carry on board 3 helicopters, mine-torpedo and anti-submarine weapons, MLRS, as well as powerful radars and digital communication systems.
Despite the fact that the Northern Fleet will become the main place of service for Admiral Nakhimov, thanks to its nuclear power plant, it will not be limited in its range of movement. Thus, our updated cruiser, if necessary, will be able to perform tasks in any area of ​​the world's oceans.