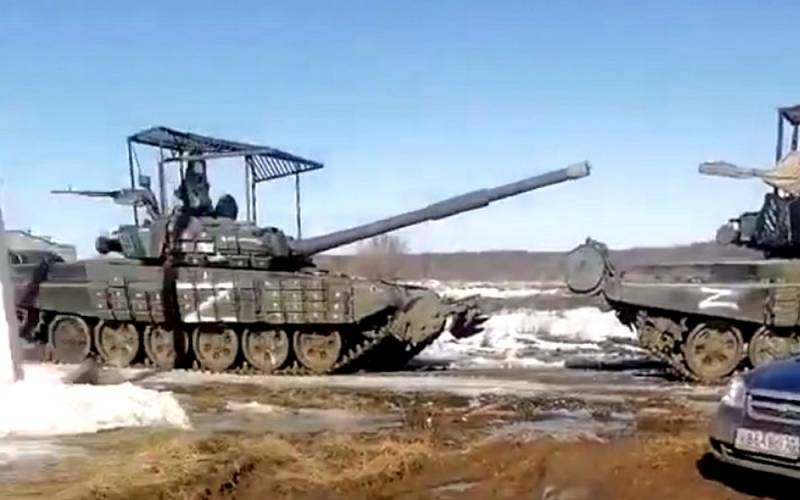 In the Belgorod region, 10 km from the border with Ukraine, according to social networks, tanks with special visors were seen to protect against Javelin portable anti-tank systems. The column also included heavy flamethrower systems TOS-1A and engineering
technique
. All vehicles were marked with the tactical sign Z, which we wrote about
earlier
.
It is noteworthy that some tanks were "supplied" with the flags of the Russian Federation, which is unusual.
Previously, it became known
tightening
to the borders with Ukraine of combat vehicles "Terminator" to combat anti-tank crews of the Armed Forces of Ukraine.
Meanwhile, the head of the DPR, Denis Pushilin, announced a serious aggravation of the situation in the republic. In an official appeal, Pushilin noted that about 1,7 shells had fallen on the territory of the Donetsk Republic over the past 36 hours. Currently, fighting is taking place near Mariupol in close proximity to the Russian-Ukrainian border. In the Kominternovo area, soldiers of the XNUMXth brigade of the Ukrainian forces attacked the positions of the People's Militia of the DPR. During the mortar attack, one militiaman was killed and several were injured.
According to Pushilin, the territory of the DPR is being shelled from grenade launchers, tanks and artillery mounts. In particular, the Armed Forces of Ukraine are firing at Yasinovataya, Gorlovka, Donetsk, Zaitsevo, Dokuchaevsk and Kominternovo.
In addition, according to the Ministry of State Security of the DPR, a Ukrainian sabotage group broke into the republic, the purpose of which is to reach the border with Russia.