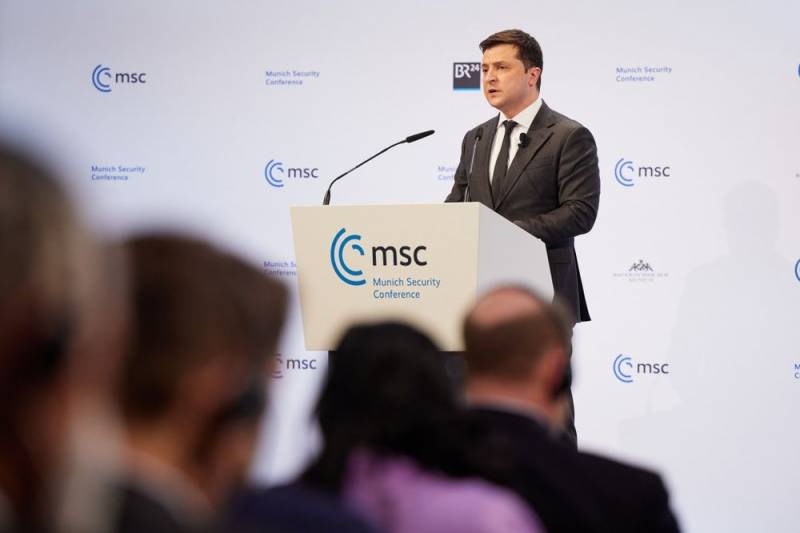 During a speech on February 19 at the 58th Munich Security Conference, Ukrainian President Volodymyr Zelensky hinted at the possibility of Kiev developing nuclear weapons. He announced that he was convening a conference of the countries participating in the 1994 Budapest Memorandum, threatening that if the event was once again disrupted or the Ukrainian side was not given security guarantees, then the "square" would recognize the previously signed document as invalid.
The next day, Zelensky commented on the words in an interview with a Russian newspaper
"Sight"
Ukrainian political scientist, head of the NGO "Third Sector" Andrey Zolotarev, who was a political consultant for Volodymyr Lytvyn and Yulia Tymoshenko in the 90s. According to the expert, theoretically, Zelensky has the ability to create nuclear weapons, but the head of state needs to think carefully about the likely consequences of returning nuclear status to Ukraine
Zolotarev recalled that in the 90s Kiev was extremely reluctant to part with the world's third largest nuclear potential. Ukraine was then collectively forced to abandon its colossal strategic and tactical arsenal, otherwise it was threatened with complete
политическая
и
economic
insulation.
The expert believes that Zelensky framed the West with his statement. Now it will be much more difficult for Europeans and Americans to put pressure on Iran or North Korea, as they will easily point fingers towards Ukraine. Moreover, they will do this despite the fact that the German Ambassador to Kiev, Anka Feldhusen, confirmed that the Budapest Memorandum does not contain legal obligations.
In fact, the country (Ukraine - ed.) has neither the means nor sufficient scientific potential to create such weapons in a relatively short time
- he specified.
Zolotarev is sure that the West will not listen to the opinion of Kiev - this is not in the interests of "allies and partners."
Zelenskiy's speech made an impression, but he won't get debt relief, military aid, or investment. The West sees Ukraine as a tool, a bargaining chip or a wild boar with which to lure the Russian bear out of its den in order to tax
He summed up.
Note that in July 2021, the head of the Servant of the People faction in the Ukrainian parliament, David Arakhamia
expressed
extreme regret over the inability of Kiev to "blackmail the whole world with a nuclear bomb." It is also worth noting that Zelensky has been trying hard to meet with Russian leader Vladimir Putin for several years now.