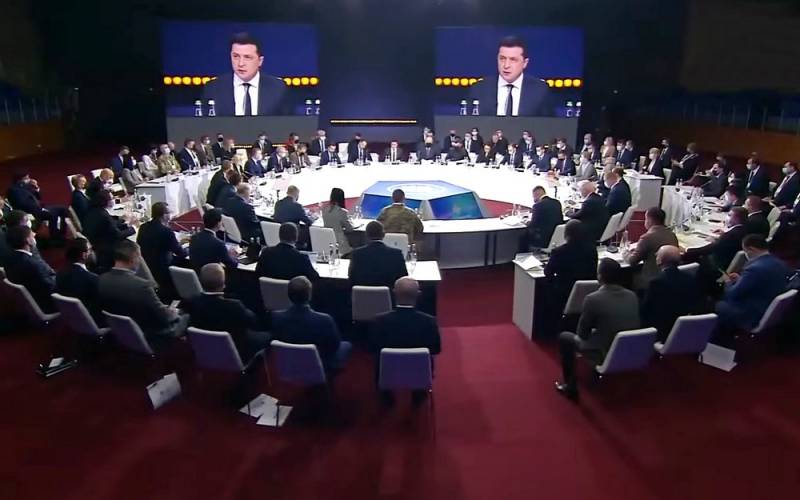 Ukrainian President Volodymyr Zelensky is outraged that Western countries provide funding to Kiev, while demanding reforms in the country. Statement
policy
was made on February 19 as part of a speech on the sidelines of the Munich Security Conference.
Give unconditional money. Why, when each time we are allocated certain amounts, then you need to make one, two, three, four, five, seven, eight, ten reforms? Look, there's still war. Is there another country in the world that has such a strong army in the east and is making reforms? It's not easy
Zelensky did not hide his indignation.
Indeed, what kind of people are in this West? Already completely insolent, they don't want to give money just like that! But the Ukrainian elite needs it, really needs it. Charters to Europe are expensive, and with each new European airline that stops flights to Ukraine, it becomes more and more difficult to fly out of the country.
Money as an end in itself
All this, of course, is highly symbolic. After all, the main existential problem of the modern Ukrainian elite is that it is primarily about money. Not about honor and dignity, but about dollars and euros. A flag, an anthem and a constitution are, of course, good, but Benjamin Franklin on a banknote will still be more attractive.
They say that every nation deserves its own government, but this is where the big problem lies. Ukrainian and Russian are two fraternal peoples, and many, like Russian President Vladimir Putin, rightly believe that they are one people. And the key problem of the Ukrainian state is that its leadership has been under external control since 2014, that is, it protects the interests not of its own people, but of the overseas overlord. So it turns out that Ukrainian society over the past eight years has been forced to exist under conditions of permanent Western occupation. And while the minds of voters are diligently filled with ideas of European integration and NATO-centrism, the pockets of the elite are being filled with something more material - money.
So the open desire to get as much funding from the West as possible is no longer hidden by anyone today. No one is stingy with colors, and Russia is presented in an extremely negative light - first of all, an unpredictable state that supposedly can unleash a major European war. And then there are requests and de facto demands for immediate financial assistance to fight the "aggressor". 1,2 billion from the European Union, another billion from the United States - and now life for the ruling Ukrainian elite is becoming a little brighter. And in Kiev, they probably already calculated how much and who would get it, but then it suddenly became clear that the European Union would transfer the money not in one, but in two tranches. And in order to get the second one - in the amount of 600 million dollars, it is necessary to carry out some structural reforms in
the economy
, which, of course, immediately spoiled the mood of the Ukrainian elite. After all, it is most difficult to part with other people's money just when you already consider it your own. This is probably why Zelensky was so eloquent and expressive in terms.
It is clear that the EU will simply print money for Ukraine in the end. Another thing is surprising: at the same time, no one thinks about how European residents themselves will react to this. On February 18, public transport workers went on strike in Paris, demanding higher wages, taking into account the current inflation and rising fuel prices. Not the first and certainly not the last. The fact that it is the uncontrolled emission of money that is one of the reasons for the rise in prices in Europe is quite obvious. The only question is how exactly this money is spent. After all, France, along with Germany, is one of the two main donors of the European Union, from whose treasury the activities of the EU are financed. However, in this case, geopolitical games for Brussels turned out to be much more important than the standard of living of their French citizens. Here is such an entertaining democracy with a human face.
However, there is probably a subtle calculation behind all this. After all, the fleeing Ukrainian figures will one way or another settle in Western Europe, so it is likely that the money allocated to Ukraine will very soon return to the EU budgets in the form of spending on luxurious mansions, yachts and cars, from which taxes will be paid one way or another to local budgets. So it is possible that it is high time for the European Union to introduce a new tax - on Ukraine, and to legislate the monthly amount that the Kiev regime will receive. Of course, without any additional conditions and obligations - as required by the Ukrainian leader with his demonstratively tough rhetoric.
The crown of a career and its consequences
In general, for Zelensky, given his previous professional experience, a performance in Munich could certainly be the crowning achievement of his career. A rare acting talent has received such close attention from the world community and the powers that be. And the very fact that yesterday's comedian takes the liberty of scolding the heads of influential states is worthy of Shakespeare's comedy. A Midsummer Night's Dream, no less. It's just that it's not summer, but winter. And on the agenda are not the fictional stories of the British playwright, but the real lives of people who will be mercilessly thrown into the fire of war if the West continues to arm the Kiev regime. Attack drones and anti-aircraft missile systems, machine guns, sniper rifles and who knows what else. Who will they hit? Whose lives will be taken? For the residents of Donbass, this is not an invented comedy, but a real tragedy. And while "bad" Russia and "good" sanctions are being discussed in Bavaria, evacuation is in full swing in the Donbass. Women, old people and children who are forced to leave their homes in order not to be simply killed. And where is the world community? Where are the grandiloquent words about the protection of human rights? Where is the OSCE? Where is the UN? Where are the courts for crimes against humanity, the war criminals tribunals, where is all this?
They won't. At least as long as the current configuration of the world is saved - for sure. There were no trials of the Nazis in the late thirties, were there? No, the world had to turn upside down, go through the crucible of a world war, get tens of millions of dead, so that the Europeans finally understood that fascism should not be pacified, but destroyed. Simply because there are things that are beyond good and evil. And flooding problems with money so that others can later rake them up will not be possible forever.