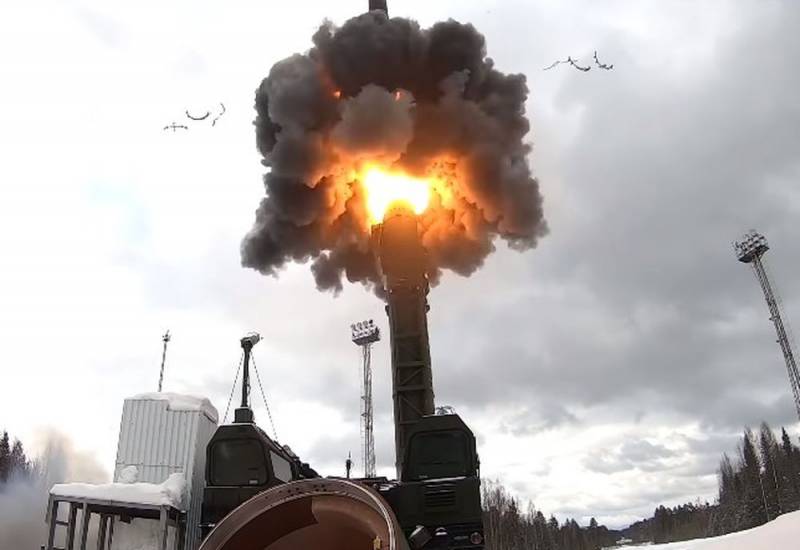 February 19 in Russia took place earlier
announced
strategic deterrence exercises led by Supreme Commander of the RF Armed Forces Vladimir Putin. Mass launches of ballistic and cruise missiles were successful. This is stated on the website of the Kremlin and in the communiqué of the Russian military department.
It should be noted that the President of Belarus Alexander Lukashenko also observed the progress of the exercises from the situational center of the Kremlin. The weapons systems confirmed their characteristics - the missiles hit all the training targets.
The forces of the Southern Military District (SMD), the Strategic Missile Forces (RVSN), the Northern and Black Sea Fleets of the Russian Navy and aircraft of the Aerospace Forces took part in these strategic nuclear forces maneuvers. MiG-31K fighters launched hypersonic missiles from the 9-A-7660 Kinzhal (or Kh-47M2 Kinzhal) aviation systems. At the Kapustin Yar test site in the Astrakhan region, practical launches of the Iskander family of OTRKs were successfully completed. Tu-95MS strategic bombers carried air-launched cruise missiles at the Pemboi range in Komi and the Kura range in Kamchatka. From the Plesetsk cosmodrome, the Yars ICBM was launched at the Kura range.
Ships and submarines of the Northern Fleet and the Black Sea Fleet launched Caliber cruise missiles and Zirkon hypersonic missiles against training targets on land and at sea. The strategic missile submarine cruiser (SSBN) K-18 "Karelia" (project 667BDRM "Dolphin") of the Northern Fleet launched a ballistic missile of submarines (SLBM) R-29RMU2 "Sineva" from the Barents Sea at the Kura range.
Now Moscow and its ally Minsk are ready for any surprises from the Western "partners".