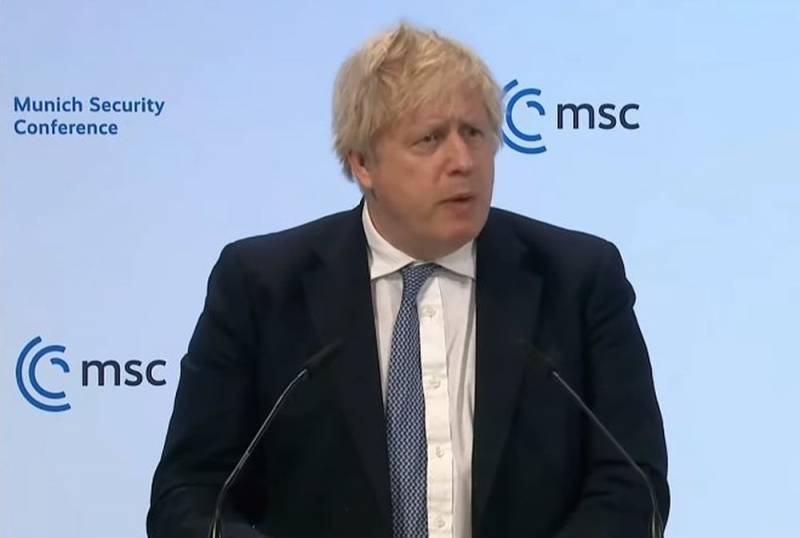 On February 19, British Prime Minister Boris Johnson lashed out at Russia and Russian leader Vladimir Putin at the annual Munich Security Conference (Munich Security Report 2022). This international event is held this year on February 18-20, but due to the COVID-19 pandemic, the number of guests and media is limited.
In his speech, the head of the British government said that dialogue and diplomacy have a chance for a peaceful resolution of the crisis around Ukraine.
However, you need to put your hand on your heart. When 130 Russian soldiers gather near the border of Ukraine and more than 100 battalion tactical groups threaten the sovereignty of a European country, we must rise as one against this threat, because we must understand what is at stake. If there is an invasion of Ukraine and it is suppressed, we will see the destruction of a democratic state. This is a country that has been free for generations with a great history and free elections. We were in Kiev and assured the Ukrainians that we would defend their sovereignty and independence to the last. But these words will sound meaningless if now, when their sovereignty is in danger, we turn away and do not look in their direction. The invasion of Ukraine will reverberate around the world in East Asia and Taiwan. When I spoke to the Prime Ministers of Japan and Australia this week, they left no doubt that
economic
waves and
political
shocks will be felt in them. Therefore, the risk is now very high - people can come to the conclusion that aggression is right and the one who is stronger is right. So let's not underestimate the severity of this moment and how high the stakes are. We do not know what President Putin intends to do, but the signs are not good, so we must unite
Johnson stated.
The British prime minister also noted that at present the UK, together with the European Union and the United States, is developing a package of the toughest sanctions against Russia in general and the Kremlin in particular. He stressed that this process is going on in the closest coordination.
In the event of a Russian invasion of a neighboring state, we will apply the most severe measures to Russian individuals and companies. They will not be able to receive money on the financial platform in London and other markets. We will open nesting dolls and start digging down to the smallest until we establish who benefits from the work of all these companies. And if President Putin believes that by his actions he can intimidate NATO into retreating, then he will be convinced that everything will be quite the opposite. We are already strengthening our defenses on the eastern flank of NATO
Johnson added.
After that, he listed how many forces and means London sent to other countries, closer to the borders of the Russian Federation. He assured that the UK is ready to respond to any emergency, pointing to an increase in the likelihood of negative developments.