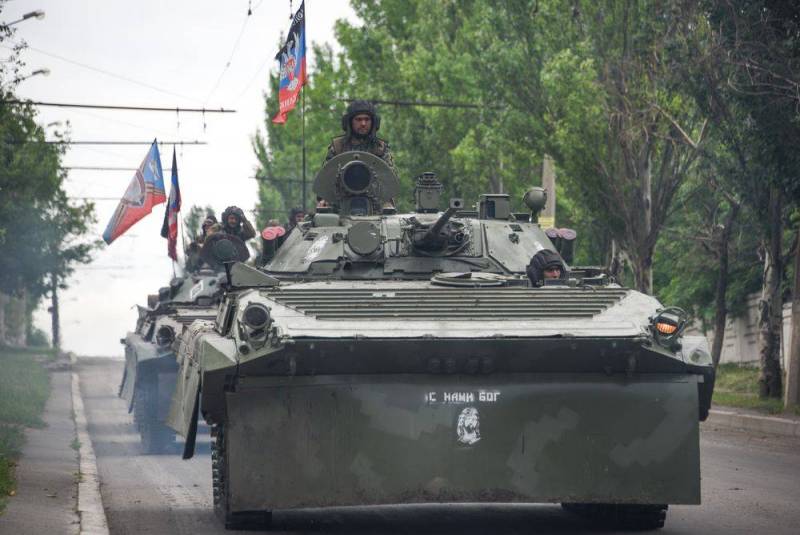 The operational situation on the demarcation line in Donbas remains extremely tense. Throughout the evening of February 18 and the night of February 19, Ukrainian security forces continued to shell the territories of the LPR and DPR.
The Armed Forces of Ukraine used tank guns (125 mm caliber), 122 mm artillery, 120 mm and 82 mm mortars, BPM (73 mm caliber), anti-tank systems, various grenade launchers (SPG-9, AGS-17, RPG-7 ). More than 130 rounds of ammunition were fired, and that's not counting the use of heavy machine guns and small arms.
It is known that at least 3 settlements came under fire in the DPR: the village of Styla in the Starobeshevsky district, as well as the villages of Belaya Kamenka and Grigorovka in the Telmanovsky district. At least 10 settlements came under fire in the LPR: Zolote-5, Slavyanoserbska, Sokolniki, Veselenkoe, Raevka, Oboznoe, Prishib, Zholobok, Kalinovka, Sanzharovka, Veselaia Gora, Kalinovo, Donetsk, Zelenaya Roshcha, Molochny, Golubovskoye.
Approximately at 00:10 on February 19 in Lugansk, in the area of ​​Frunze and 2nd Belomorskaya streets (the village of Malaya Vergunka in the Zhovtnevy district), an explosion occurred on a gas pipeline. At 00:40 there was a second explosion on the gas pipeline on Veselohorovskaya Street in the Kammenobrodsky district of Lugansk. According to Luganskgaz, 95 subscribers were temporarily disconnected from gas supply until the consequences were eliminated. Law enforcement officials suspect that it was sabotage.
Residents of the LPR, interviewed on the morning of February 19, said that when the authorities of the republic announced the start of evacuation to Russia, panic began in the suburbs of Luhansk. Residents gathered in the capital of the republic, traffic jams formed at the gas station. Shops and banks filled with people. Queues lined up at the ATMs. Some tried to quickly acquire passports for animals and vaccination certificates for them, since pets are not allowed to cross the border without these documents. It was also confirmed that men aged 18-55 are not allowed to leave the LPR at the border. Some people are going to get to their relatives and friends on their own in order to temporarily stay with them, waiting out a dangerous period. But most remain in place.
Not many people are being evacuated, my family and friends are still here. It's noisy, pretty much flies to some cities, but they shot at them even in "peaceful" time, not so thick, but it was. So far, everything is stable, as in the LPR. More panic spread
one of the interlocutors from Stakhanov elaborated.