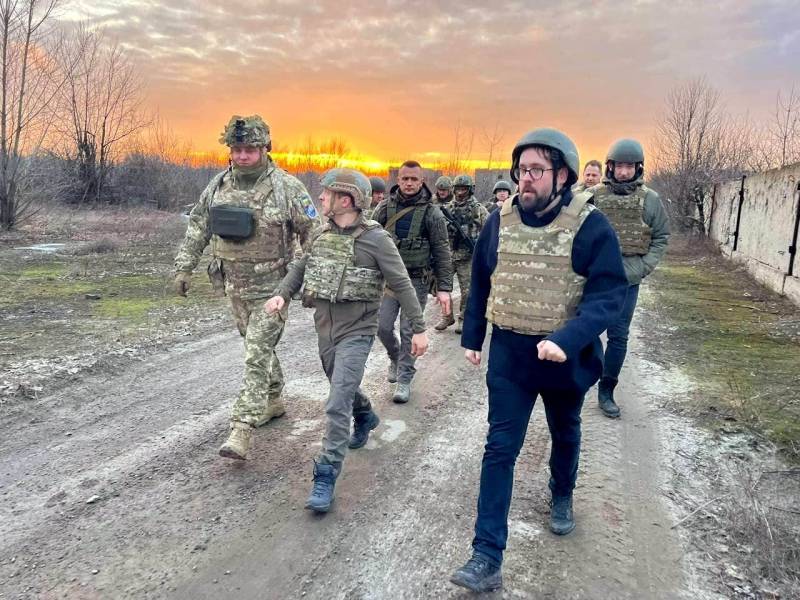 Volodymyr Zelenskyy visited the Donbass on February 17, where hostilities actually resumed. It is noted that the Ukrainian President examined samples of the FGM-148 Javelin and NLAW portable anti-tank missile systems, which were recently delivered from the United States and Great Britain.
Zelensky also visited the advanced positions of the Armed Forces of Ukraine and got acquainted with the operational and tactical situation on the demarcation line.
At the same time, the president was dressed in a bulletproof vest that had already become a "meme", which caused a series of ironic comments from the Russians.
The painting "Clown in an armored bra", not otherwise
– wrote Anton Dmitriev.
The President of Azerbaijan and his wife were in Karabakh without body armor and a helmet. Why was this given out? It will not save you from a sniper, and from a landmine too. And on the attack "For the Motherland!" he probably won't go
- said a user with the nickname SpongeBob.
Zelensky in a puppet body armor. I do not think that Zelensky will live to old age. Poroshenko, yes, that seasoned one, like Kolomoisky, and others. And Zelensky is a banal clown. And the killer of women, children, old people and good guys who die defending their home from Ukrainian fascists
- Sergey Kolyasnikov did not skimp on expressions.
Does he realize how stupid he looks off stage?
- Vladimir Koshka asks a rhetorical question.
Gay parade in military style
- ironically Oleg Korostyakov.
Who let the child go to the military? Punish!
- Ilya Kremen is perplexed.
Whoa, whoa, take it easy. What kind of Lion is this Tiger?! It's funny every time I see him. And these people, having such a president, also constantly insult ours!
- Alexander Seryakov wrote, attaching a couple of photojacks.