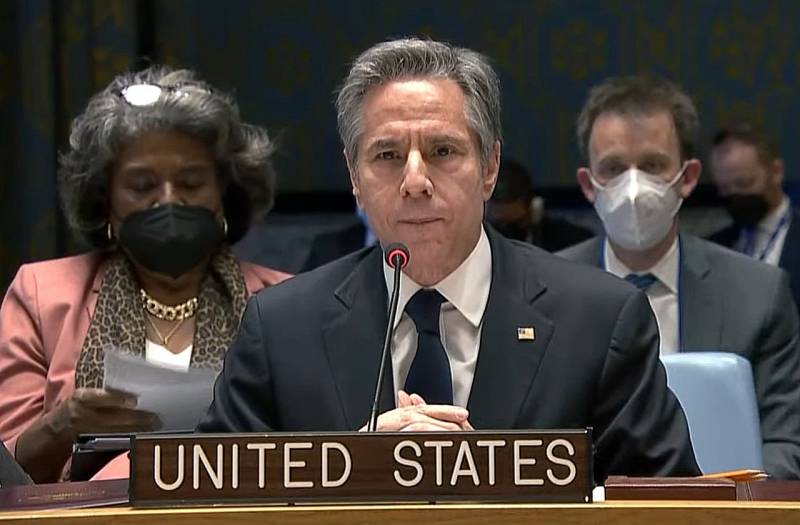 US Secretary of State Anthony Blinken, during a speech at a meeting of the UN Security Council on Thursday, February 17, spoke about possible scenarios of Russia's "aggression" on the territory of Ukraine.
According to Blinken, the Kremlin is able to create a pretext for an "attack" - it could be some kind of "violent event" with accusations against Kiev, a fabricated terrorist attack, the discovery of mass graves of civilians, drone strikes on civilians, or a provocation using chemical weapons. Moscow may describe such an event as ethnic cleansing or genocide.
The Secretary of State noted that in the past few days, the Russian media have begun to spread "false" accusations against Ukraine to artificially justify a likely invasion. At the same time, voices will be heard about the importance of Russia's protection of the ethnic Russian population living on Ukrainian territory. Following this, the bombing of Ukraine may begin, communications will be disrupted, state institutions will cease to function, and Russian tanks will head towards the country's strategic facilities.
These facilities will also include the Ukrainian capital, Kiev, a city of 2,8 million people. And that's not all Russia plans to do. We have information that the Russians are planning to attack specific groups of Ukrainians
- said the head of the State Department, without explaining what exactly he had in mind.
Blinken warns Ukraine of the "inevitability" of such a development. Speaking from the UN rostrum, the United States, he said, is trying to influence Russia, to force it to abandon the military scenario and take a different path.
I am here today not to start a war, but to prevent it.
the diplomat emphasized.
At the same time, the Secretary of State repeated the thesis that Russia deployed about 150 thousand military personnel and many combat units in the border areas.
equipment
. And if the Russian Federation refuses to attack, the whole world will breathe a sigh of relief.