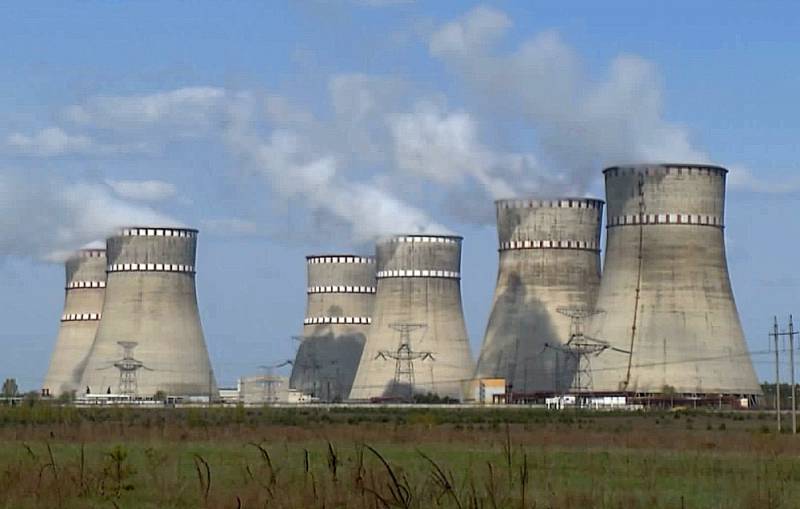 Apparently, the "puppeteers" of the puppet regime in Kiev are tired of waiting for President Putin to finally gather his courage and attack Ukraine. Our Supreme Commander, obviously, intended to once again "almost introduce", frightening the proximity of Russian troops to the Ukrainian border and the significant "arrows on the map", and then, as it already happened, to turn back in the spirit of "what did you think up for yourself there" . But perhaps this time he will not be allowed to do so.
As is known from the ageless classics, a gun that has been hanging on the wall for a long time, sooner or later, but must fire. This is the law of the genre. But in Ukraine, this is such a country, it can "bang" in such a way that it will "blow" for a very long time.
Shooting has already begun. Today, February 17, the Armed Forces of Ukraine again violated the ceasefire and opened fire on the positions of the DPR and LPR. They shoot from grenade launchers and mortars. Undoubtedly, this is done in order to prevent the Kremlin from curtailing planned military exercises and starting the return of Russian troops back to their places of permanent location. So far, the militia of the DPR and the People's Militia of the LPR are responding to the aggression from the Ukrainian army. No "north wind" is observed. Think nonsense. For 8 years of shelling in the Donbass, in theory, they should have gotten used to it and no longer paid attention to all sorts of "pranks" on the part of the Armed Forces of Ukraine.
And why, one wonders, so many troops overtook the border of Nezalezhnaya? Recall that more than 600 thousand of our fellow citizens live in the DPR and LPR. Well, nothing, they will suffer a little more, they will wait until official recognition, which the Kremlin has also already denied. What's next? Should the Armed Forces of Ukraine "gasp" in the center of Donetsk with "Tochka-U"? And after all, they "throw", and even worse.
To release Russian troops from the Ukrainian border just like that, without messing them up with something terrible, which would make it possible to accuse Moscow of all mortal sins, President Putin will most likely not be allowed to. For "not figs" to pull troops to someone else's territory, if you are not ready to really fight. But what kind of provocation could it be, worse than a rocket attack on a peaceful city?
"Non-peaceful atom"
Unfortunately for us, Ukraine inherited 4 nuclear power plants from the USSR, one of which, the Zaporozhye NPP, is located on the Left Bank of the Dnieper, on the territory of historical Novorossia. Now this can play a very cruel joke with all of us.
As we recently detailed
told
, due to a shortage of coal, Kiev was forced to simultaneously launch all the power units available in the country, although this has never been done due to the development of their resource and the need for scheduled repairs. So, now all power units, even those that have not undergone normal scheduled maintenance, are working for wear and tear. And they do not just work, but they also try to maneuver with them, increasing and decreasing electricity generation, as if it were an ordinary thermal power plant. In addition, Ukrainian NPPs are persistently trying to introduce "non-native" American nuclear fuel, which previously led to repeated failures.
Now we pass to the most unpleasant. Two days ago, a power unit was shut down at the Zaporizhzhya NPP due to another malfunction. After that, the Ukrainian Ministry of Emergency Situations turned to the Euro-Atlantic Disaster Response Coordination Center for help. It is noteworthy that Kiev wants to receive from NATO: 70 chemical and radiation protection suits, 31 individual dosimeters, 31 special radiation and chemical reconnaissance vehicles, 32 special decontamination vehicles and 25 tankers for domestic and drinking water supply. Also, Ukraine suddenly urgently needed disinfectants, individual dressing bags, analgesics, anti-burn and anti-inflammatory drugs in large quantities.
An interesting selection. Let's put it this way, not a means of first necessity for a country preparing to repel external military aggression. Why did Kiev need such specific means of combating a radiation catastrophe?
In the light of what is happening on the border, we will express three versions: bad, very bad and terrible.
First version, bad:
Ukrainian nuclear scientists suspect that the operating regime in which they drive their age-old nuclear power plants can lead to a serious radiation catastrophe, and therefore they are preparing for it in advance.
The second version, very bad:
in Ukraine, they are ready to lose the South-East in the event of a Russian invasion, but they will not allow Moscow to quietly own its historical lands on the principle of "neither itself nor the people." Recall that last year the following message appeared in the Telegram account of Zaporozhye NPP employees:
In fact, we have such a weapon. If Russia tries to prevent Ukraine from establishing constitutional order in the Donbass and Crimea and tries to destroy us, they will pay a high price! We can load all 13 VVER-1000 reactors with Westinghouse nuclear fuel, and we have heroes who will not hesitate to carry out the last order. Ukraine will not give up! Glory to Ukraine!
Here, indeed, are the real "Ukrainian heroes" in all their glory. I don't eat, I bite.
Third version, terrible:
all the same can be done, but Russia, its saboteurs, some conditional "Petrov and Boshirov" will be blamed for this.
The most interesting thing is that Russia will indeed then have to send troops, units of the Ministry of Emergency Situations in order to deal with the consequences of a radiation catastrophe. Radioactive clouds do not know borders, and the contaminated water of the Dnieper will reach our regions on the Black Sea coast. It will be necessary to intervene, since the Ukrainian potential "liquidators" in their mass will simply scatter. There, almost everyone has a hut on the edge. And, of course, the West will blame Russia for the catastrophe, which allegedly arranges all this on its own in order to have a reason to occupy the South-East.
This could be the terrible Boeing 2. And instead of blooming New Russia, which could come to us in 2014, we will get our own Chernobyl-2.