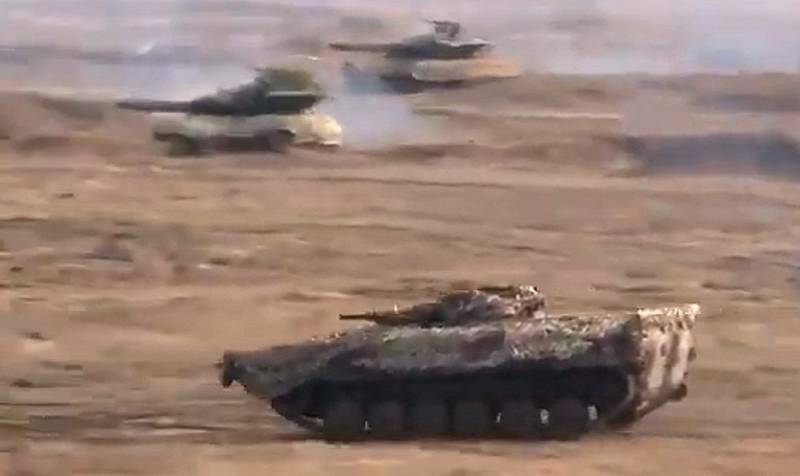 In Ukraine, military exercises "Zaviryukha-2022" ("Metel-2022") are being held under the leadership of the local supreme commander in chief. They must demonstrate the full power of the Ukrainian armed forces to the "probable aggressor" from the east and "allies" from the west.
A video appeared on the Web showing how, during one of the stages of these exercises, a BMP-1 crashed into a T-64BM tank in front of Vladimir Zelensky. The footage showed that the crew of the infantry fighting vehicle did not notice the "elegant" maneuver of the tank, which was moving from the right side, firing at targets from the side projection. Perhaps, the BPM thought that since there was "an obstacle on the right", they would give way to them, as when driving at a crossroads.
After the collision, the BMP freezes, if there were also infantrymen inside, then you will not envy them. At the same time, the tank, whose crew, apparently, did not care who was nearby, continued to move around the training ground as if nothing had happened.
It should be noted that if the BMP had moved a little faster, the tank would have rammed it, making the consequences for the crew of the infantry fighting vehicle and the landing force inside even more deplorable. Well, at least they didn't shoot at each other, everything happens in the exercises.
However, the Ukrainian military, reporting on successes, as well as the media, for some reason, cut out this piquant moment from publications. Therefore, for many, the embarrassment went unnoticed. But the question of who exactly they are trying to scare or reassure with such "combat efficiency" in Kiev remains open. What the President of Ukraine himself thinks about the incident is also unknown.
We remind you that during the air stage of the above-mentioned exercises, aviation of the Armed Forces of Ukraine
ostentatiously
destroyed the tank column of a mock enemy, forgetting to use the Su-25 subsonic armored attack aircraft, which are exactly what is needed for such cases.