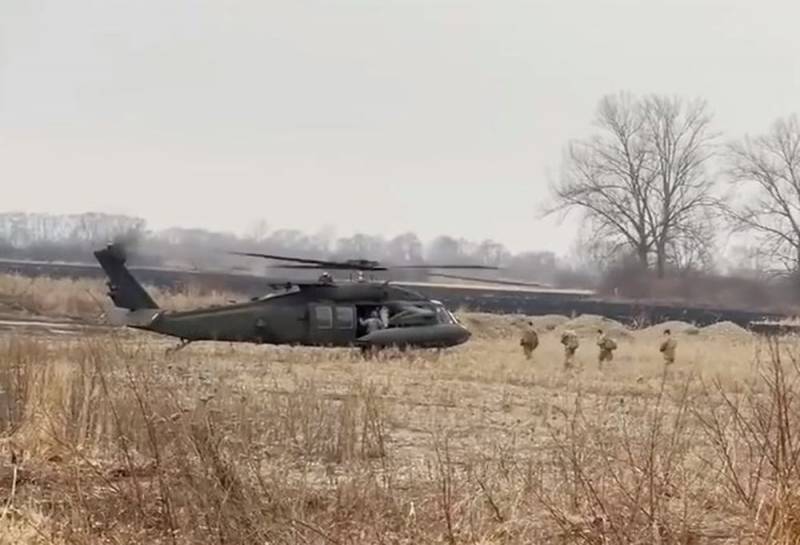 Over the past two days, on the border of Ukraine, from Poland and Romania, there has been a strange increased activity of US combat helicopters. Videos have surfaced online to prove it.
The footage of the first video shows how an American army transport and landing helicopter Sikorsky UH-60M Black Hawk takes out some strange group of people, clearly unlike tourists, from the Romanian-Ukrainian border. Romanian eyewitnesses specified that on February 16, a US military helicopter flew over Siret customs and the border area with Ukraine for several hours, after which it took out a detachment of American special forces. The rotorcraft left the area around 18:00 and headed to the south of the country, probably to the base of Mihail Kogalniceanu.
The second video was filmed by an impartial outdoor surveillance camera of the Polish Border Guard. It shows how a similar UH-60 at 23:21 on the night of February 15 makes a landing directly on the roadway near the checkpoint on the Polish-Ukrainian border.
According to Polish social media users, the helicopter evacuated an injured American who crossed the border into Poland from Ukraine. According to the official version, an employee of the US diplomatic mission in Lviv received some kind of injury. After that, he was transported to the border with Poland, and then delivered by helicopter to a Polish medical facility. After that, on Wednesday, February 16, American UH-60 helicopters landed twice more near the Polish-Ukrainian border.
The second American UH-24 helicopter landed near the Polish-Ukrainian border on Wednesday and the third in 60 hours, presumably still to evacuate the wounded. But somehow there are too many of them per day for civilians
- drew attention to the Telegram channel "Militarist".
Note that the Polish and Romanian territories have become convenient platforms for US special operations in Ukraine, regardless of the development of events. For example, in Colombia, the Americans have centers for "refugees" from Venezuela, "languishing" from socialism, and in Jordan, similar facilities for "victims of the regime" in Syria.