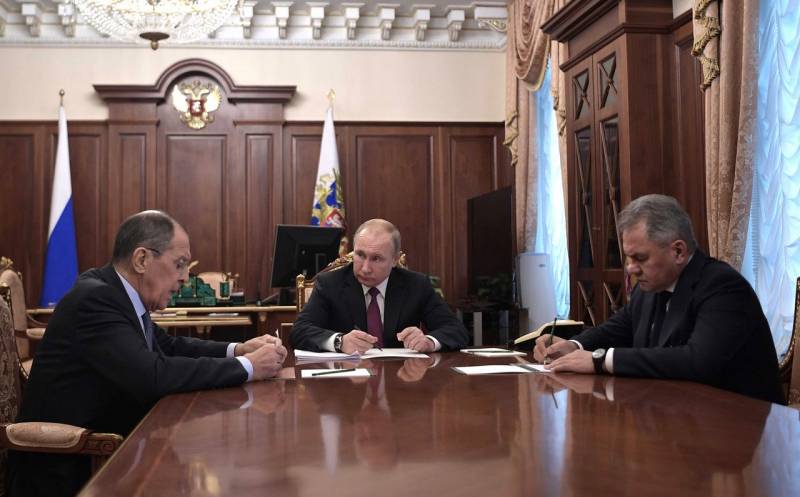 On Monday, February 14, Vladimir Putin held meetings with the heads of the military and diplomatic departments, at which he discussed with the ministers the main security issues and the main international challenges currently facing Russia.
In particular, Putin's meeting with Lavrov discussed NATO's eastward expansion and the responses from Washington and Brussels to Russian security concerns. According to Sergei Lavrov, the US response to Russian proposals in this area consisted of two parts.
The first part was the reaction to Russia's concern about the admission of the former Soviet republics to NATO, to which a negative response was received, the meaning of which is the priority of countries to join various kinds of military alliances. However, as Lavrov noted, this right is not unconditional and is limited by obligations not to strengthen one's security at the expense of the security of other countries.
The Minister also mentioned the actual evasion of Western countries from answering questions from the Russian Federation regarding Ukraine's entry into NATO. Only messages were received from Stoltenberg and Borrell, in which the Secretary General of the Western bloc and the head of European diplomacy advised to take measures to de-escalate the situation near the Russian-Ukrainian border.
We will continue to seek a reaction from each country, since all international documents on security were signed in a national capacity, and one must be held accountable for one's obligations
Lavrov noted.
The second part of the Western reaction is more constructive and concerns the deployment of weapons in Europe, reducing risks and increasing transparency. Moreover, many US responses in this direction reflect the earlier proposals of the Russian side over the past few years.
Now these proposals were followed by a rather concrete reaction and readiness to enter into negotiations. Moscow's European Security Initiative Has Shaken Our Western Colleagues
- emphasized the minister.
The head of the Foreign Ministry also pointed out the inadmissibility of "talking about" security problems and expressed the opinion that Russia's possibilities in establishing a productive dialogue with the West are far from being exhausted.
The head of the Russian Defense Ministry, in turn, reported to the President on the progress of ongoing exercises with the participation of troops from almost all military districts, as well as on the maneuvers of the Navy in different parts of the oceans. During the exercises, various options for the actions of a potential enemy are worked out and adequate responses to them are given.
Sergei Shoigu also spoke about the discovery of an American submarine near the Kuril Islands, which entered Russian territorial waters for about 4 km.
As a result of almost three hours of actions, the US boat was expelled from the territory of Russia
the minister of war reported.