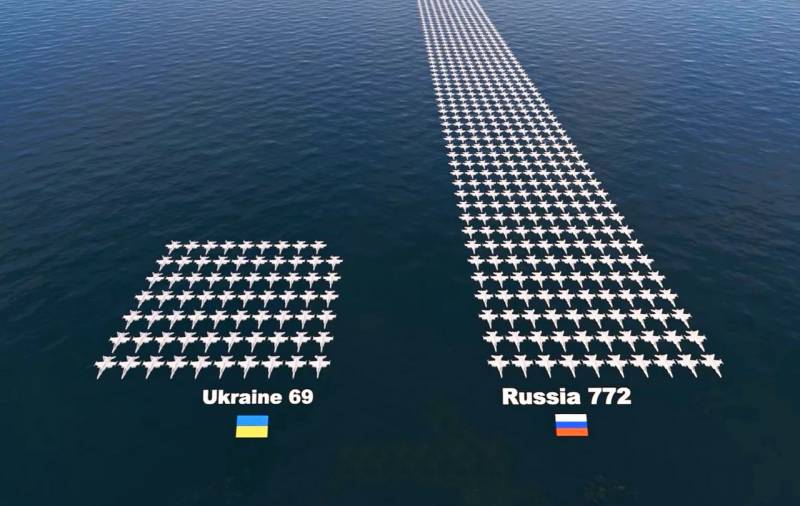 The American YouTube channel Mega 3D Studios published a video in which he visually compared the forces of the military aviation of Russia and Ukraine.
Thus, according to the authors' calculations, Ukraine has 32 military transport aircraft against 445 Russian ones, 71 combat training aircraft against 552 - at the disposal of Russia, 5 aircraft for special purposes against 132 of the same aircraft in the Russian Federation.
At the same time, Russian aviation power is concentrated in 772 fighters against 69 - in Ukraine, in 739 strike aircraft against 29 of the same combat vehicles in the service of the Armed Forces of Ukraine. In addition, the Russian Air Force has 1543 military helicopters against 112 Ukrainian rotorcraft, as well as 544 attack helicopters against 34 in Ukrainian military aviation.
Meanwhile, according to the Ukrainian ambassador to Germany, Andriy Melnyk, Kiev is ready for a very gloomy development of the situation, in which Russia will soon invade Ukraine. At the same time, Melnik drew attention to the weakness of the Ukrainian armed forces compared to the Russian ones and demanded from the FRG the supply of heavy weapons: 1 anti-aircraft missiles and 12 anti-tank missiles.
However, despite the more than likely outcome of a possible military confrontation, Ukraine is determined to repel "Russian aggression." Kiev initiates the return of the military from vacations and transfers combat units closer to the eastern borders.