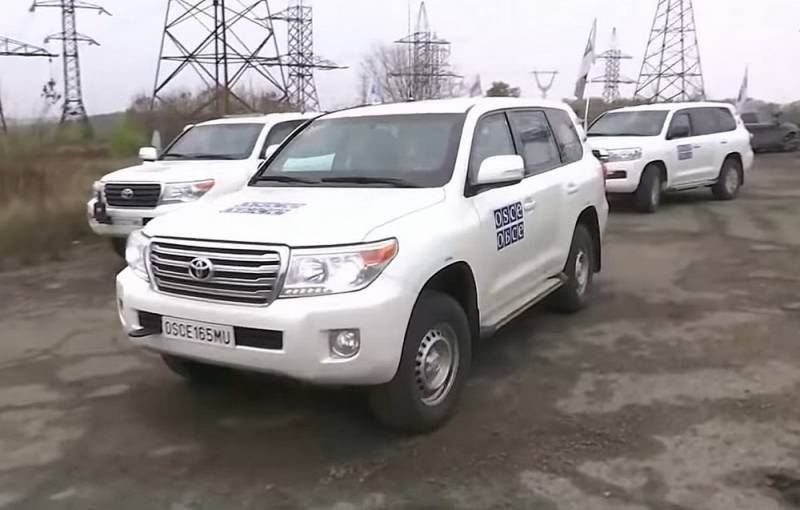 The man-made "evacuation panic" that began in Ukraine against the backdrop of hysteria about an "inevitable Russian attack" also affected the activities of the OSCE Special Monitoring Mission in Donbas. On the morning of February 13, the United States and Great Britain informed about the emergency evacuation of their representatives, working as part of the mentioned OSCE SMM, from the territory of Ukraine.
The Americans and the British quickly left the Donbass. Following them, representatives of other Western-oriented countries hastily gathered.
It became known that a convoy of six SMM vehicles proceeded from Donetsk and the DPR in general, through one of the Oleksandrivka entry-exit checkpoints (EECPs) towards Ukraine. The Telegram channel Inside Donetsk informed the public about this, referring to its informant. He explained that the contact line is usually crossed by 2-3 SMM off-road patrol vehicles with monitors, so the departure of a whole convoy could indicate the start of an evacuation. Moreover, the footage of the checkpoint crossing is already available on the web.
The parking lot of the OSCE mission at the headquarters in Donetsk has really thinned out compared to last night. But about twelve armored cars (armored off-road vehicles - ed.) are still at the office of European observers. It should be noted that usually cars were very densely packed in the parking lot.
- the WarGonzo Telegram channel clarified, adding that two more cars left a few hours later.
The OSCE does not comment on this information. In addition, it is not known what is happening with a similar SMM on the territory of the LPR.
Note that before this, the head of the DPR, Denis Pushilin, announced the impending evacuation of the OSCE SMM from Donetsk. In his opinion, this indicates the possibility of an early offensive of the Armed Forces of Ukraine on the positions of the People's Militia.