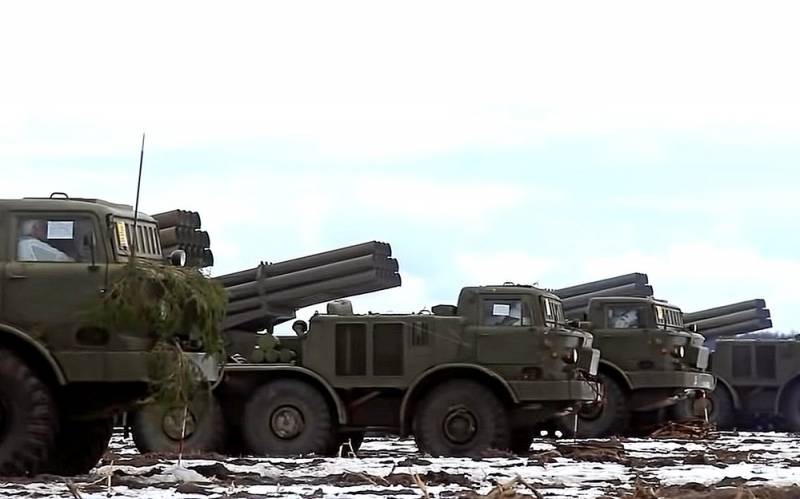 Joint Russian-Belarusian exercises "Allied Resolve-2022" are being held in Belarus. A video was published on the Web showing the use of the MLRS 9K57 "Hurricane" of the Armed Forces of the Russian Federation and 9K58 "Smerch" of the Armed Forces of the Republic of Belarus at the Osipovichsky training ground (military unit 12147) in the Mogilev region. However, especially attentive users noticed that the Russian army men spend ammunition very economically compared to their Belarusian counterparts, who, however, also did not demonstrate "generosity".
First, the footage shows one rocket artillery battalion of the Russian Hurricanes, consisting of eight launchers, located at the firing line. The command is given to hit the target, but the shot is carried out by only one installation. Moreover, the same shot is shown from different angles. All other launchers did not open fire.
In the case of the Belarusian "Tornados", only two launchers open fire. They release only a few ammunition, which are filmed from different video cameras.
Obviously, the Russian military is saving ammunition, because earlier in such exercises, MLRS covered targets with heavy fire, using all the available ammunition.
For example, this was the case when the artillerymen of the 2nd Combined Arms Army of the Central Military District carried out live firing from the MLRS at the Totsk training ground in the Orenburg region in August 2018.
And this is what a blow from the Hurricanes looked like during the Vostok-2018 exercises - large-scale combined-arms maneuvers of the RF Armed Forces.
More footage of the exercises of artillerymen of the Central Military District with the involvement of the crews of self-propelled guns "Msta-S" and MLRS "Hurricane".