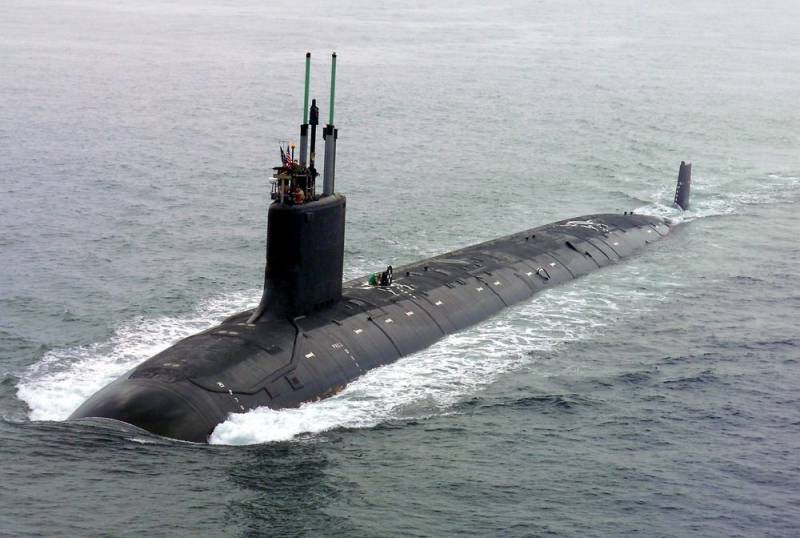 On February 12, in the area of ​​maneuvers of the forces and assets of the Pacific Fleet of the Russian Navy in Russian territorial waters near the Urup Island of the Great Kuril Islands, a US Navy multi-purpose nuclear submarine of the Virginia class was discovered. This is stated in the communiqué of the Russian Ministry of Defense, posted on the website of the department.
Russian sailors from a Navy frigate transmitted a message in Russian and English to the crew of the nuclear submarine of probable "partners" in Russian and English that an American submarine had sailed into Russian territorial waters and ordered "Surface immediately!" However, the American side cynically ignored the legitimate demand of the Russians.
After that, the frigate "Marshal Shaposhnikov" (project 1155M) used "appropriate means." But the US nuclear submarine "used a self-propelled simulator to split the target on the means of radar and acoustic control" and sailed away with the highest possible speed for it. Then a detachment of Pacific Fleet ships continued the exercises, including controlling the underwater situation to prevent violations of the Russian state border. Thus, the submarine failed to hide and monitor the actions of Russian ships.
We remind you that at the end of April 2021, Marshal Shaposhnikov returned to the fleet. It was in the process of upgrading from a large anti-submarine ship (BOD) to a frigate. It was armed with 3S24 Uran, 3S14 Caliber, Onyx, Zircon missiles and the Otvet anti-submarine missile system (PLRK).
The ship's anti-submarine armament also includes: MGK-355 "Polynom" - a subsurface search sonar station for all-round visibility and target designation, necessary to detect submarines, torpedoes and sea anchor mines; two twelve-barreled RBU-6000 rocket and bomb launchers designed to destroy enemy submarines and torpedoes; 8 anti-submarine self-guided electric torpedoes of caliber 533 mm "SET-65". What kind of "relevant means" were used against the American "guests" is not specified.