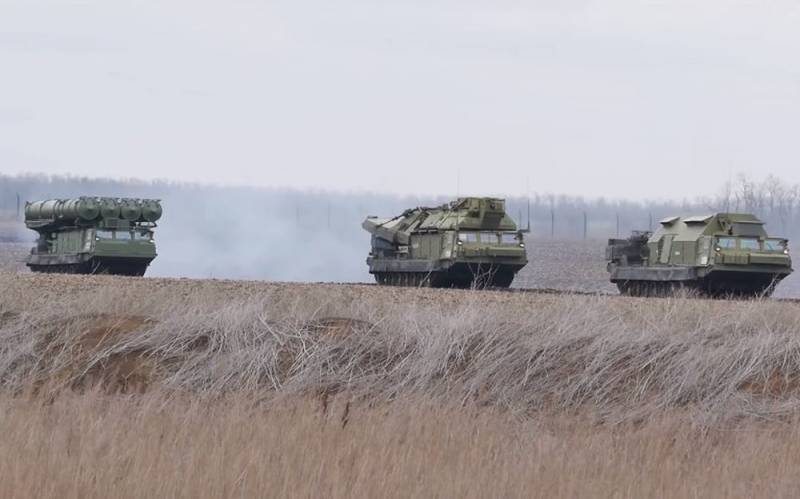 A video has appeared on the Web showing Russian S-300V air defense systems ("Voyskovaya" or "Antey-300V") in the border area with Ukraine. The footage was taken at night, but the mentioned
technique
clearly visible.
An eyewitness who shared the video on social networks claims that the recording was made in the Belgorod region of Russia. It should be noted that this region borders on the Sumy, Kharkiv and Luhansk regions of Ukraine, and there has recently been observed
deployment
the most powerful self-propelled guns 2S7M "Pion-M" or "Malka" caliber 203 mm.
The S-300V air defense system is an air defense / missile defense system of the front-line link of the Ground Forces. These complexes are designed to work in isolation from other air defense systems, providing all-round cover for military groups and the defense of important objects from attacks by all types of aircraft, cruise missiles, other aerodynamic air attack weapons, aeroballistic and tactical ballistic missiles.
We remind you that in recent months, the Russian Armed Forces have created an air defense system in depth in the Ukrainian direction. There already
are located
S-300PM2 air defense systems and Pantsir-S1 air defense missile systems, as well as air defense systems
"Beech"
and SAM
C-400
.
At the same time, the West continues to whip up hysteria about the "inevitable invasion of Russians on Ukrainian soil." In this case, in addition to the usual media, "non-governmental" organizations and specific pages (accounts) in social networks are especially zealous. They actively intimidate citizens of Ukraine and residents of Western countries with a "Russian invasion".
For example, on February 11, the International Center for Strategic Intelligence (ICSI) published another announcement on its Twitter account. This time, "social scouts"
changed
code "Red" (Code Red) to code "Black" (Code Black), which means - war is inevitable.
TRAVEL ADVISORY: # Ukraine
In light of multiple countries ordering their citizens to evacuate Ukraine immediately, and the announcement tonight that US intel believes Russia will invade in the coming week, we are now moving to our highest alert level: Code Black, for Ukraine. pic.twitter.com/UrgB5i4CUP

— International Center for Strategic Intelligence (@ICSI_OSINT) -
Note that in Russia they no longer hide their
relations
to the Western media and intelligence agencies, openly calling them fake-news.