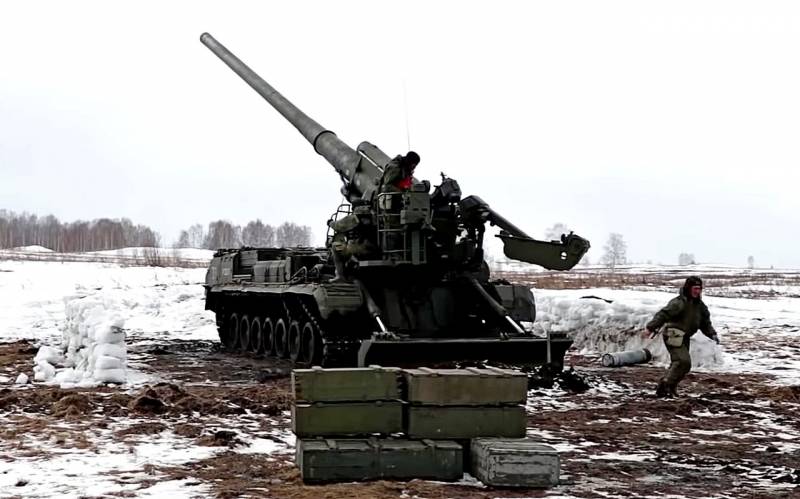 In the context of the ongoing hysteria about Russia's "inevitable invasion" of Ukraine, a video has appeared on the Web, from which it follows that the Russian military has pulled up the most powerful artillery that is part of the Russian army to the Ukrainian borders.
The footage posted on social media shows 2S7M Pion-M or Malka self-propelled guns of 203 mm caliber, and according to an eyewitness, they were recorded in the Belgorod region of Russia, which borders the Sumy, Kharkiv and Lugansk regions of Ukraine.
In service with the Russian Ground Forces, as of 2019, there were 136 2S7M units (a modernized model of 1986 development) and more than 200 units of the same guns were in storage or in artillery schools. At the same time, the Armed Forces of Ukraine at the same time had 6 units of 2S7 "Peony" (model of 1975 development) and another 90 units of similar guns were in storage.
According to data from open sources, at the indicated time there were 10 artillery brigades of army subordination in the RF Armed Forces, each of which contained 12 2S7M units, i.e. one cannon artillery battalion each: 9th Guards Artillery Brigade (military unit 02561). 30th artillery brigade, 120th guards artillery brigade (military unit 59361), 165th artillery brigade (military unit 02901), 200th artillery brigade (military unit 48271), 227th artillery brigade (military unit 21797), 236th artillery brigade, 291st artillery brigade (military unit 64670). 305th artillery brigade (military unit 39255) and 385th guards artillery brigade (military unit 32755). In addition, in the 45th high-capacity artillery brigade of district subordination (military unit 31969) there were still 16 2S7M units.
There is practically no doubt that the video with the Russian "Peonies" will cause another bout of Russophobia in the West and in Ukraine. Such powerful guns are designed to strike at the rear of the enemy to a depth of 47 km.