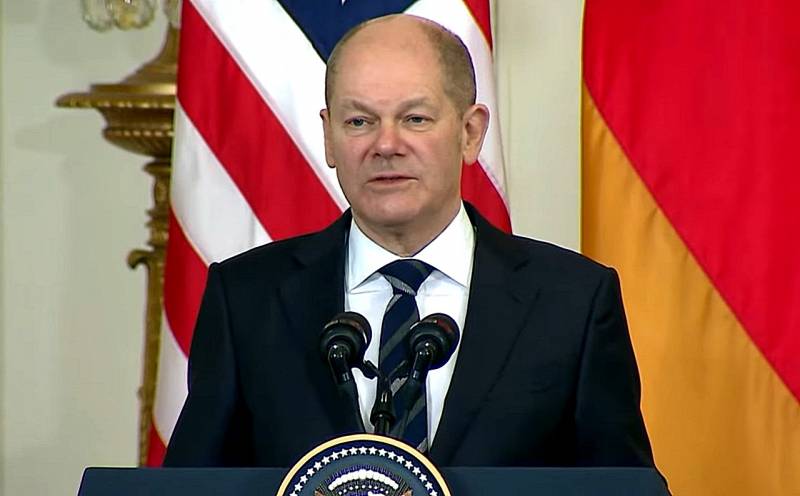 US President Joe Biden and German Chancellor Olaf Scholz held talks in Washington. During the conversation, the owner of the White House tried to persuade the head of the German government to tough sanctions against the Russian Federation. This was announced on February 8 on his YouTube channel by Russian-Ukrainian expert Yuriy Podolyaka.
For Washington and London, the war against Russia is a settled issue. They show this in every possible way, even trying to overcome the stubborn resistance of the Ukrainian leadership, which really does not want to be a "lamb at the slaughter" for the sake of Washington's interests. Kiev is well aware that if the US scheme works, then Russia will invade Ukraine, overthrow the current government, which in turn will be the reason for Europe to announce harsh sanctions against the Russian Federation.
Podolya explains.
In his opinion, the main goal of American foreign
policy
- destroy
economic
and political ties between Europe and Russia. With the Biden-Scholz meeting, the Americans tried to pave the way for the implementation of their plan.
The expert drew attention to the fact that Germany desperately needs Russian gas. Moreover, the future German energy industry based on hydrogen fuel is also tied to Russia. Berlin is extremely interested in long-term and fruitful cooperation with Moscow, so the Germans really do not like the way the Americans and the British behave aggressively.
Today, all major projects in hydrogen energy are being developed by the Germans with Russia. Giving up natural gas does not mean giving up Russian energy sources. What is being built today is what will work for decades to come. The German elites have actually already adopted the concept of close cooperation with Moscow
- says Podolya.
At the final press conference, Biden was emotional and categorical, he openly threatened Russia with sanctions "for aggression." At the same time, Scholz was restrained and evasive.
Scholz declared his solidarity with the Americans that Russia must pay a very high price for a possible invasion of Ukraine. But specifically on Nord Stream 2, he said absolutely nothing. The issue of sanctions has not yet been fully defined, it is being discussed, but, of course, Russia will pay a "very high price." Moreover, Scholz made the emphasis on the word "price", and not on countering the "Russian invasion". For Germany, the issue of Ukraine, in fact, has already been resolved. She is ready to give Ukraine away, but will make Russia pay a "very high price" for this. Obviously, Germany will not refuse gas supplies from the Russian Federation, because without it it simply cannot survive. This is the main conclusion that Russian diplomacy can draw from the meeting - Biden failed to "persuade" Scholz to what he wants
- explained the expert.
As Podolyaka summarizes, Germany and Scholz have their own special position regarding Ukraine, and those 5000 helmets that Berlin defiantly sent to Kiev are all military assistance for the Armed Forces of Ukraine.