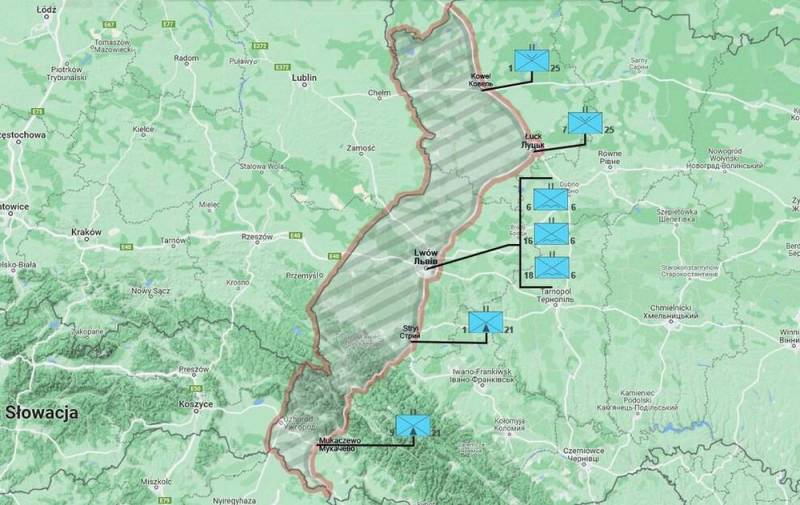 The recent visit of Polish Prime Minister Mateusz Morawiecki to Kiev created a lot of noise in Ukraine and is now acquiring new details, as well as the assumptions that accompany this process. The Telegram channel "Krit SBU" informed the public about this, citing sources.
I would like to comment on the rumors surrounding the deployment of Polish troops on the territory of Ukraine and reassure subscribers: at the moment, the introduction of troops has not yet been planned and has not even been finally agreed with the Polish side. All the insiders and publications on this topic available on the net are an information campaign of the SBU aimed at probing the soil and probing the reactions of the Ukrainian public. To take such a step, Zelensky needs to understand how the Ukrainians will react, and, I must say, there is something to react to
- says the publication.
It was clarified that the map attached to the post indicated the actually discussed deployment of Polish army units on the territory of Ukraine. This is a buffer zone, on which the Polish side insists, but to which Kiev, which is in anticipation of the "inevitable aggression of the Kremlin", has not yet given its final consent.
And this suspiciously coincides with the claims of the Poles to Ukrainian territories, and indeed the question is what and whom they were going to defend there in the event of a Russian invasion of Ukraine. I personally have a lot of questions about this move (step). But! I repeat, no decision has been made on this issue, the information campaign is in full swing, keep this in mind
- summed up the author.
We remind you that the residents of Ukraine are now actively discussing the past visit. Allegedly, President Volodymyr Zelensky gave Warsaw consent to the deployment of the Polish military in Western Ukraine to create a buffer zone against the backdrop of a "probable Russian invasion."
The basing of the Polish military in Kovel, Lutsk, Strya and Mukachevo should be an example of deepening military cooperation between the two countries, which Morawiecki and the head of the Ukrainian government Denys Shmyhal promised to talk about in the near future. Something similar can also be provided for in a document on cooperation to strengthen regional security within the framework of
"small union"
Ukraine, Poland and Great Britain.
On January 24, the head of the National Security Bureau of Poland, Pavel Solokh, rejected the possibility of sending troops to Ukraine.