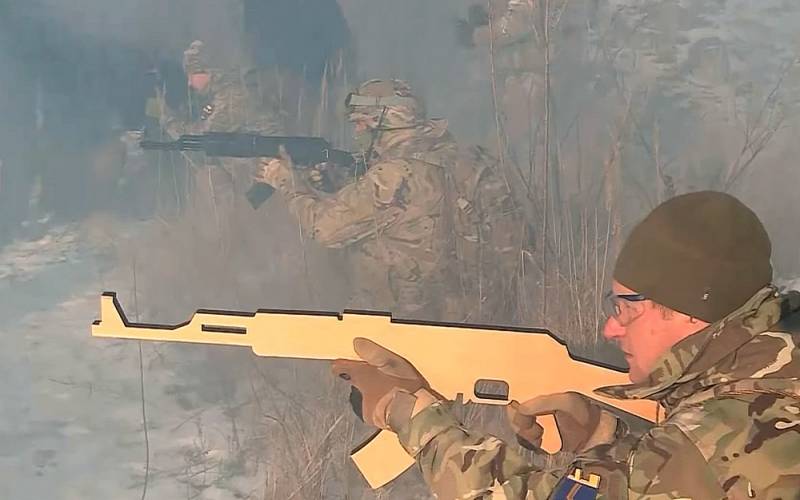 Well, well, after talking about the true "power" and real prospects of the Ukrainian army, we will have to touch on the topic of that "nationwide resistance" that is being raved about in Kiev and which has been recently promoted with such irrepressible fervor in the West. We must pay tribute to these attempts - some people in Russia who wandered Zelensky with Yermak and praised from every second "iron" in the United States and Britain "territorial self-defense forces" hit a nerve and made them worry. Not worth it, the right word. Or rather, those lubok "agitation" that today roam the pages and screens of the Western media are not worth the excitement and experience - this is all pure fraud and lies.
In the event of a real operation by the Russian army to force Kiev to peace, the risks, dangers and challenges will have little in common with those virtual "neo-Bandera partisan detachments" that already excite someone's imagination today. In fact, on the one hand, everything will be much easier, but on the other hand, it will be much more difficult. How exactly can events unfold and why in this way and not otherwise? Let's try to figure it out.
Who inflates the frenzy of "partisanism" and for what?
I'll start, as usual, with terminology and history. Well, I'm so corrosive - what can you do. Personally, the term "semi-guerrilla war" is somehow not entirely clear to me. Excuse me, how is this? Obviously, this refers to the army that has gone "into the forests and mountains" (there are not so many of both in Ukraine). Or rather, its remnants, reinforced and strengthened by "Svidomo hulks." The very ones who managed to pick up the basics of combat training in the classroom with instructors of therodefense and with wooden machine guns in their hands. Somehow I understand it to myself as "semi-partisan". Now, regarding the comparison with the Patriotic War of 1812 ... The partisan movement of that time was not a "people's initiative", but a strategic plan of the great Russian commanders - Barclay de Tolly, Bagration and, of course, Kutuzov himself. First of all, we remember and praise Denis Davydov - thanks to literature and cinema for that.
Categorically, one should not confuse with all this the spontaneously arising "on the ground" peasant detachments that defended their own villages and goods from the occupiers who turned into an ordinary gang of marauders. By the way, Davydov's detachment was repeatedly attacked by "colleagues" from the peasants, until they thought of taking off their uniforms and letting go of their beards. The peasants mercilessly beat everyone who wore a uniform ... Why this digression? Moreover, both in opposition to the horde of Bonaparte, and more than a century later - in the fight against the Nazi invaders and their allies, the partisan movement was effective solely because of the presence on the "Great Land" of the center leading the struggle and directing it. As well as supplying everything necessary and replenishing the ranks with professionals of the desired profile. In the event of a conflict with Ukraine, nothing of the kind will happen - the "center" will fly away beyond the cordon at hypersonic speed. If he has time.
As for the comparison with Grozny, it is even more inappropriate. A completely different people, faith, culture, psychology, and, let's say, the "starting conditions" of the confrontation. It's not even worth comparing here - because we are talking about things that are completely incomparable. I can state with all responsibility - those who actually scream about their readiness to "go to war with Putin" will not be typed in the territory now called Ukraine, and a few percent. At the same time, most of the screaming ones will give a screech at the first break somewhere near the horizon. Not to mention what will happen to them when the first bullet enters the body of the one standing next to them in the line. Very, you know, a characteristic sound is obtained in this case. Impressive... Photo shoots of "relentless fighters against Russian aggression" who today wander from The Times to The Sun, from Bloomberg to Voice of America (announced in Russia as a foreign agent), and from there to Deutsche Welle, which is one step away from receiving of this "honorary status", are nothing more than unambiguously staged shootings. In 99 cases out of 100. The same faces, the same fakes.
The "grandmother in a headscarf", clutching a plywood Kalash, like her own grandson, turns out to be not a "migrant from Donbass", but an official from the Kiev mayor's office. Some girls in fitness pants and, again, with machine guns that they hold like frying pans ... This "extras" was either paid, or "sent" to the exercises forcibly. All this would be funny if it were not arranged (like any large-scale provocation of the West) with a double or even triple aim. Yes, the Americans and the British are trying their best to convince the local "People" of how real "aggression" is - since even grandmothers with children learn to "repel" it. But this information attack also has another addressee - a purely Russian one.
Everything will be completely different
It is the Russians, in the first place, those who, quite possibly, will have to enter the land of the current "non-detached" in military uniform to carry out a peacekeeping mission and restore order there, certain forces in the West must be assured that "they will be shot at from every window. That every local they meet on the way (it doesn't matter if it's a man, a woman, a child or an old woman) hates them, and they don't just dream of killing, but they are even trained in this. I hope you don't need to explain why this is done? A soldier will behave completely differently in a territory where there are a certain number of enemies, but the vast majority are normal, who are waiting for help, and where 99% of the inhabitants who are thirsty for his blood are enemies. No need to "be led" to this Goebbels rotten stuff! If the citizens of the "nezalezhnaya" were such militant Russophobes as they want to be seen in Zelensky's office and the Ministry of Defense, as they are being portrayed in the West, they would not have run tens of thousands from military conscription.
On the contrary, there would be queues at the military registration and enlistment offices. The presidential decree on the introduction of military registration for women would have caused general rejoicing in society, and not a wave of anger and obscene wishes addressed to its author. Yes, and "territorial defense", for that matter, would look somewhat different than a motley rabble of incomprehensible personalities who were either driven there or lured. I will not say that everyone here will meet Russian troops as liberators and deliverers of a nightmare that has dragged on for eight long years. Believe me, there are more of them than some people think. But, alas, not the majority. Otherwise, again, things would be different. However, in order to dream of "90% of Ukrainians" who voluntarily and with songs will run to the slaughter in a war completely alien to them personally, one must completely not know their mentality and psychological characteristics.
Adaptability and indifference - these are their two "cornerstones". Believe it or not, but in 2013-2014, when the "Maidan" was seething in the center of Kiev, its presence was felt at a maximum of 200-300 meters from the local "barricades". Then a completely normal life began - with a wandering public, expensive cars and taverns. The country is falling apart! However, the inhabitants of a huge city of three million did not care. It didn't concern them personally at that time. The "stoned" rabble first gathered on the "Maidan", and then was transferred to the Donbass - from which, in fact, it all began. The trouble was that the "normal" looked at all this and kept quiet in a rag. They voted for Poroshenko, then for Zelensky... Such people will not "turn their own houses into fortified areas". And trust me, you won't let anyone else do it.
The army (which in this case will scatter after the first hostilities, if not completely, then by half) will not be able to do anything without the support of the people. And it will not be - in accordance with a little-known Ukrainian proverb: "Batko squint, but I don't. What the hell is mani?!" Believe me, this will be the simple "categorical imperative" of the absolute majority of Ukrainians. Study at least the history of the Civil War in these parts in order to understand that the Ukrainians, having played enough of "independence" and having eaten its "fruits" from the belly, subsequently chose the side of the one who could bring peace and tranquility, stop the mess and the Makhnovshchina. Well, and stronger, of course - how could it be without it. So it will be this time, no matter how different "mouthpieces" trumpet there. At the same time, of course, we are not talking about Galicia with its vile Bandera traditions. You just need to cut it off like a gangrenous limb - and forget it. That will be better for everyone.
And enemies ready to shoot in the back, sabotage and kill, of course, will. There will also be real gangs - close-knit and well-armed, attacking everyone and everyone. But not the remnants of army units. And flocks of "ATO veterans", "Maidan activists" and other culprits of the current Ukrainian horror, who will really lose everything at the moment when the current regime, ideology, "state" finally collapse. They will lose all illegal privileges, social status, and, moreover, they will have to answer for what they have done in these eight years. But the most terrible threat will still not be them, but the great multitude of opportunists who, having repainted and feeling great after the "Maidan", repaint again and rush to "build a new Ukraine"! So they shouldn't be given a single chance. And there should be no Ukraine either. Little Russia as part of the Union State - according to the recipe of Alexander Grigorievich. And this can be achieved without any mass repressions, without any "inhuman war" and other terrible horrors that CNN and Bloomberg dream about so much.
Let me give you a simple recipe. The Russian army does not need to interfere at all in all this. It is enough to find those to whom the "Maidan" in the most direct sense broke both their careers, their lives, and their fate. Former policemen, employees of state bodies, the military, thrown out of service by the "Maidan". Passed in full humiliation, threats, bullying. Provide them with compensation payments for all this - from the funds seized from Poroshenko, Zelensky and others. Give a certain status, normal salaries and arm. They'll get better, trust me. The fighters of the peacekeeping forces will have to smoke in the cordon and make sure that they do not overdo it in the process of cleansing society from individual geeks. Although ... Is it necessary?