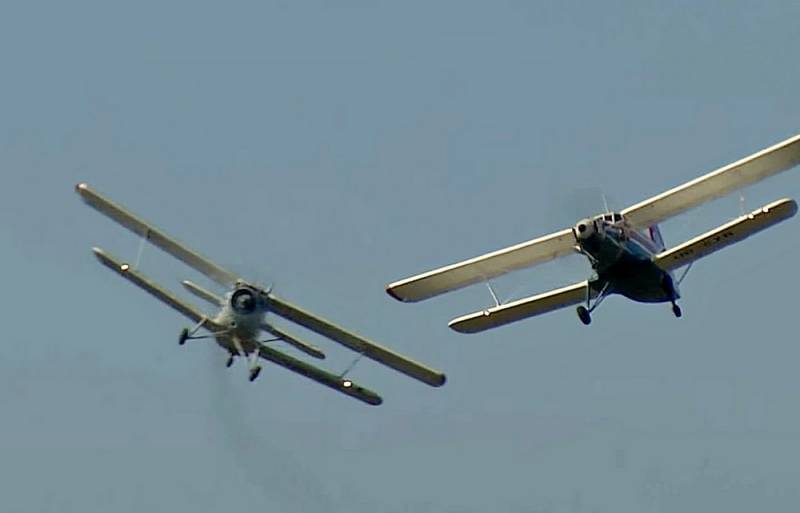 A video appeared on social networks, which shows a dozen An-2s flying in the Russian sky allegedly near the Ukrainian border at once. The appearance of such a number of aircraft of this type against the backdrop of the ongoing hysteria in the West about the "inevitable invasion of Russians on Ukrainian soil" caused heated debate among users on the Web.
And what can be done with the An-2? Throwing paratroopers, cargo, sabotage. Why are they there? With DOSAAF they collected everything and flew for what, for what purpose?
Ivan Turov asks.
An-2 takes off, heads to the conflict zone, control (autopilot) is blocked, the pilot leaves with a parachute (jumps), and the plane catches an air defense missile, the launch site is detected and a high-precision strike is delivered there ... Initially, there were even reports that the An-2 were converted into drones, but then footage appeared of the pilots leaving them with a parachute. But the main thing is that they fulfilled their function - they forced the air defense to shoot
- reminded the audience of the actions of the Azerbaijani army during the Second Karabakh War Artyom Shevchenko.
They are looking for waves, codes for detecting aircraft from the air defense of a neighboring state. It makes little sense to substitute military aircraft, and the howl can rise above the mountains, they say, - now, Russian planes are already probing the border
- says Dima Osipov.
Do not forget that the An-2 is in the Airborne Forces. Each division has a squadron of such machines, they are used to train parachuting, tk. the machine is very inexpensive to operate, simple and reliable
reminded Peter Petrov.
Perhaps this is just the distillation of aircraft after repair at the Shakhtinsky ArZ (CJSC Shakhtinsky Aviation Repair Plant DOSAAF in the Rostov Region - ed.)
– Dan Vasnarsky cooled the militant audience.