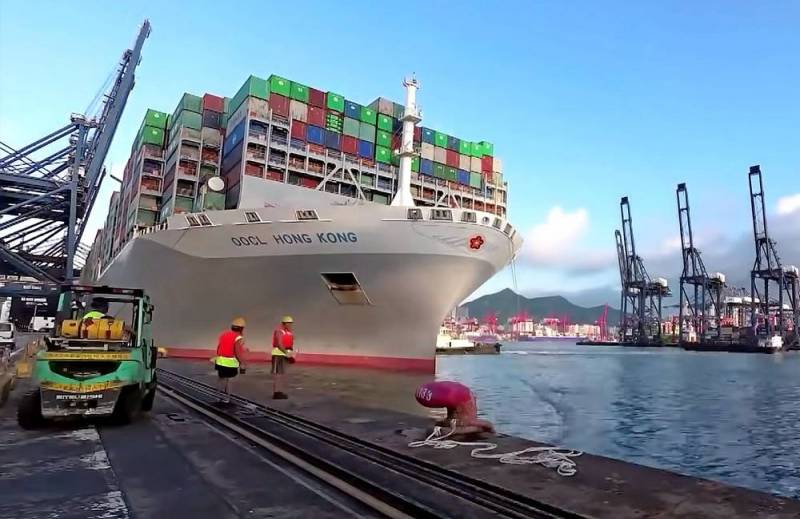 Against the backdrop of the demonstrative rapprochement between the positions of Beijing and Moscow on key issues of the world order and the security system, it is customary to talk about some kind of union of our countries. In the Western media, one can find publications on the topic that Russia and China, having united, "heap on everyone". Needless to say, that the domestic jingoistic patriotic party adheres to a similar point of view? But is such an alliance between Russia and China really needed, and if not, what is the real alternative?
If you call a spade a spade, then a military alliance is more beneficial for the Kremlin in order to be able to use the "we are with China" argument in negotiations with the United States and the NATO bloc. Unfortunately or fortunately, but Beijing's position on this issue is to evade any direct obligations of a military-political nature to Moscow, which has quarreled with the entire collective West. We must be aware that there will be no military alliance between Russia and China in the traditional sense. Joint
political
declarations, military exercises, lend-lease - this, please, with pleasure, but there will definitely not be any mutual assistance treaties and Chinese aircraft carriers in the Baltic. Then what is possible?
For a correct answer to this question, it is necessary to be guided by the principles of pragmatism and sufficiency. What does China need from Russia?
Some
Technology
in the aviation and space industry, which we have left from the Soviet backlog. Some high-tech weapons, like elements of the early warning system, which you can't just copy. Experience and competencies of Rosatom in the construction of new power units for Chinese nuclear power plants. Russian gas to diversify the risks of interruption of supplies through Central Asia and the Strait of Malacca, as well as other natural resources at a reasonable price. Like, that's all. And then what should Russia take from China, which is facing the threat of losing its hydrocarbon market in Europe in the medium term due to its "decarbonization" program and falling under a high-tech embargo from the United States and its allies?
Technological donation
A huge problem for the modern Russian Federation is the deindustrialization and collapse of the Soviet education system. In the development of technology, we are decades behind the Western countries, the scientific and production base is in a systemic crisis. It is impossible to copy or create something of your own from scratch due to the action of "patent umbrellas". Young people prefer to go to study as managers and lawyers, intelligent techies go abroad, where they are provided with high salaries and an opportunity for self-realization.
If there were an embargo on the sale of products with American patented technologies to Russia today, we would face big problems. With all the desire, it will be simply impossible to replace all this in some adequate time frame. Domestic liberals mockingly tell us that without the West, the country will definitely get "kirdyk", therefore we must submit, forget about ambitions and integrate into international production chains where they are allowed, in the form of a raw material appendage, of course.
Of course, this is another lie. China can act as a technological partner of Russia. There, science and technology are now in full order, to the envy of even the West: Maglevs fly, 5G works, artificial intelligence is used in pharmaceuticals, etc. It is necessary to establish close high-tech cooperation with China: buy licenses, introduce high-speed Internet networks, create joint ventures, build high-speed highways, send students to study at Chinese technical universities, and workers for internships at Chinese enterprises. In synergy for 1-2 decades in our country, there may well be a noticeable technological progress, which will be the best
answer
to Western sanctions.
Market access
The second thing we need to get from China is access to its richest domestic market. Its potential is colossal, both Chinese and foreign companies are fighting to the death for it. At the same time, Beijing began to noticeably crush American corporations. For Russia, with its small population for such a territory and rather poor population, the opening of the PRC market would be a huge breakthrough.
Unfortunately, we do not have many export goods that can interest the Chinese. Weapons, nuclear energy, gas, oil and other natural resources are all a state issue. But ordinary consumers at the initial stage can be interested in organic food grown without the use of GMOs. Sinologists confirm that this is an extremely promising direction.
The problem is that the average citizen of the PRC, with the exception of residents of the northern provinces, knows almost nothing about Russia, except for its charismatic president. Serious systematic work is required to promote domestic "green" agricultural products.
At the next stage, when (if) their own high-tech brands with cool "gadgets" appear in Russia, they would be able to enter the extremely capacious Chinese market more easily.
Armaments
Oddly enough, not only Russia, but China itself could help us in the field of armaments. So, for example, a huge problem for the Russian Navy is an acute shortage of large surface ships. Domestic shipyards are packed with orders for years to come and are building very slowly. The idea to order the construction of warships in China has been floating around for a long time. There is some rational grain in this.
For example, the Russian Defense Ministry is not ready to transfer to Beijing the competence to build destroyers or cruisers, but the fleet is not only warships and submarines. He needs, for example, supply ships, hospital ships, etc. For the needs of the PLA Navy, the largest hospital ship in Asia, the Peace Ark, was built. Why not order from China a series of specialized non-combat vessels that the Russian fleet badly needs? They will build it well and quickly, without occupying the stocks of domestic shipyards.
Thus, an alliance between China and Russia is possible and can be very fruitful in the field of
economics
, technology and innovation.