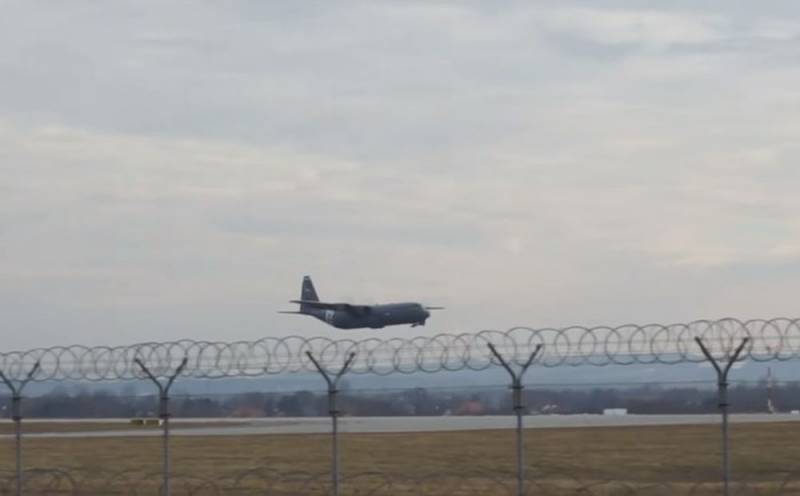 Washington continues extremely dangerous movements on NATO's "eastern flank", sending unambiguous signals to Moscow. On February 4, Lockheed C-130 Hercules military transport aircraft of the US Air Force began to land at the smallest international airport in the European Union - Rzeszow-Jasionka (Poland), with American servicemen of the 82nd Airborne Division, part of the 18th Airborne US Army Corps.
The headquarters and control of the 82nd Airborne Division are located on the territory of the Fort Bragg garrison (North Carolina, USA). Now part of the military will be deployed in the Polish southeast, not far from the Ukrainian border. The transfer of troops is carried out in two stages. First, the staff and
technique
are transported
Boeing C-17 Globemaster III military transport aircraft to the US military bases Ramstein and Wiesbaden in Germany. After that, forces and means are sent to Poland.
Temporary housing is being prepared at the local G2A Arena, while workers are erecting a fence around the sports facility. According to reports, Washington will deploy "mostly" 1700 paratroopers of the 82nd Airborne Division there.
By their actions, the United States is pushing Ukraine to intensify hostilities in the Donbas. Information has already appeared on social networks about the increased shelling by the Armed Forces of Ukraine of the territories of the LPR and DPR.
It should also be remembered that the US
pull together
their troops and to the Belarusian border. Thus, the Americans continue to escalate the situation, encouraging the "nationalists" in Poland and Ukraine. The owner of the White House, Joe Biden, recently promised to send 1 to 5 troops to Poland, and if necessary, even 50.
At the same time, on February 5, the Pentagon announced that Russia was almost ready to "invade". It has amassed 83 battalion tactical groups (BTGs) near the border with Ukraine, with 14 more to come soon. According to the US military, 70% of the Russian strike force has already been formed, and the soil in Ukraine will freeze the most by February 15th.