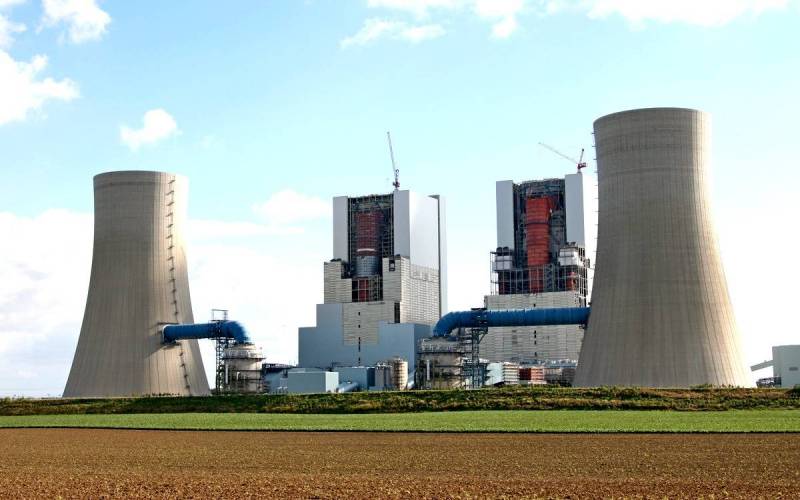 Kiev, standing, one might say, half a step away from a real revolution in its nuclear energy, which it planned to implement with the invaluable help of its overseas "partners", is experiencing severe disappointment. It seems that no "breakthrough into a brighter future" in this area will happen despite all the grandiose projects and no less grandiose statements made in the "independent" boastful manner inherent in the current government. But what a beautiful start! Zelensky's visit to Washington, the signing of a memorandum with Westinghouse Electric, a luxurious presentation of NNEGC Energoatom, which outlined the brilliant prospects for the rapid renewal of the "reactor fleet" of Ukrainian nuclear power plants and even the construction of new stations.
In fact, everything turned out to be far from being so optimistic. Those skeptics turned out to be right who called Kiev's "atomic plans" outright Manilovism, emphasizing at the same time that Westinghouse is absolutely not the kind of partner that serious people should get involved with. A company with a whole "trail" of scandals, a "stain" of bankruptcy and more than a dubious business reputation - this is its briefest description. Nevertheless, the stubborn and completely irrational faith of the Ukrainian "statesmen" in the stars and stripes "happiness", as usual, took precedence over common sense and boring numbers. And then something happened that, in fact, was bound to happen inevitably - as soon as the "cooperation" moved from the stage of memorandums and presentations to the practical phase, dreams were shattered into smithereens against harsh reality.
"Ataman has no gold reserves..."
Recall that in accordance with the plans announced at the end of last year by Energoatom President Petr Kotin, in close cooperation with Westinghouse, by 2040, 6 new power units were to be launched in Ukraine at nuclear power plants already operating today. Also, two more nuclear power plants were built from scratch, each of which will have 4 power units. Through such a "big leap", the capacity of Ukrainian nuclear power generation was planned to be increased by as much as 70% by the above-mentioned period, reaching a production level of 24 gigawatts. It was planned to start the process with the completion of two units at the Khmelnytsky NPP, where work was carried out intermittently, starting from 1985-1986.
The task seems to be not so difficult. In any case, it is quite feasible for a "nuclear company with a worldwide reputation," as Westinghouse was presented to the "independent" interested parties. True, the matter was somewhat spoiled by the fact that, as it turned out later, the Americans intended to use the AP1000 reactors for the implementation of this project, which are, in fact, "waste" of the nuclear power plant construction they failed miserably in their native United States. Due to the failure of this undertaking (as well as for a number of other similar reasons), the company was officially declared insolvent. The owners have changed there, but financial and reputational problems have not gone away. To overcome them, Westinghouse is in dire need, if you'll excuse the expression, to urgently "sell" illiquid equipment to someone. To whom, if not Ukraine? At the same time, many experts in the field of nuclear energy initially expressed great doubts about the suitability of the AP1000 reactors (which, by the way, did not go through the licensing procedure in the "non-depleted") for local conditions.
And also - deep concern about their technical condition after long-term storage in unclear conditions. The Ukrainian media even published a number of extremely frightening photographs. If you believe their authors, then the country runs the risk of getting natural rusty rubbish from Westinghouse - in the most literal sense of the word. An important point is the fact that both regarding the completion of the Khmelnitsky nuclear power plant, and regarding all other "atomic" plans of Kiev, the main question remains open. That is funding. By itself, Westinghouse seems to be a classic case of the "chieftain", who has no "gold reserve" at all. As far as it is known, its representatives carried on very intensive and tense negotiations with the American Eximbank regarding the provision of another loan to them.
By the way, 72 billion hryvnias were planned to be allocated in Kyiv in 2018 to bring this station to perfection. True, at that time the IMF was indignant at such "wastefulness", and its representatives threatened to excommunicate from the next tranches. The matter was quickly hushed up. And now the Americans have turned up very successfully under the arm. Maybe they'll fix it? In any case, neither Westinghouse nor anyone else will do it for free, of course. By the way, certain oddities are observed with overseas partners just in the matter of pricing. Either we are talking about a price of 10 billion dollars for each power unit, or they suddenly undertake to complete the Khmelnitsky nuclear power plant and continue work at four more similar facilities for only 30 billion. Why such generosity? In matters where the quality of the work performed and the level of safety of the facilities being built are given increased attention, such "discounts" cause the most nasty forebodings and fears about outright swindle.
"Fuel supplies? No, it's not interesting!"
Kiev already has enough grounds for such unrest today. So, on January 29 of this year, the same head of Energoatom, Pyotr Kotin, frankly admitted that the Americans categorically refuse to supply fuel assemblies for the two VVER-440 reactors at the Rovno NPP before 2025. Excuse me, but didn't that very "Washington memorandum" that Zelensky was so proud of indicate 2024 as the start date for deliveries? Moreover, according to Kotin, Ukraine is ready to make relevant purchases as early as next year, 2023. However, Westinghouse does not want to hear about anything like that. Experts say that two reactors for the company is a "ridiculous" volume, which they don't want to "get dirty" about. Tellingly, right now the Americans are making titanic efforts to "knock out" our Rosatom from the fuel supply schemes for both VVER400 and VVER1000 reactors. More than two dozen units of the first type operate throughout Europe. And this is already the volume of the market, for which Westinghouse is not even averse to fighting.
However, all her attempts so far are ending, to put it mildly, not very successfully. The Slovaks sent them away because the Americans demanded an exorbitant amount (for example, they refused to pay for the certification of their assemblies), and the price for them was "drawn" completely sky-high. Even the Czechs, who were trying to please the United States as much as possible in everything, on whose Temelin NPP Westinghouse tried to climb with their assemblies for VVER-1000, they recognized them as "potentially dangerous" and the applicants were politely turned away. Ukraine is currently at the forefront of the company's clients in the Old World, where seven of the 13 power units equipped with VVER1000 have already switched to American fuel. There is an opinion that this was done contrary to security considerations and common sense, but "partnership" is more important, right?
That's just the "partnership", you see, it turns out some kind of one-sided. One way, so to speak. The interests of Ukraine overseas are not going to be taken into account at all, observing only their own benefit. Kiev, having set up "castles in the air" ... sorry - virtual nuclear power plants, runs the risk of finding itself in an extremely unpleasant and even extremely dangerous situation. What exactly are we talking about? The fact is that by the time mentioned above, that is, by 2040, almost all of the currently operating power units of nuclear power plants should be decommissioned. Most of them have already reached dangerous levels of wear, close to critical. Extending the life of reactors built back in Soviet times to infinity is fraught with a new Chernobyl. And it's not even the worst case.
Moreover, due to the energy crisis that has engulfed the country, a huge shortage of coal, fuel oil, and gas that serve as fuel for thermal power plants, nuclear power plants of the "non-fueled" nuclear power plant today operate literally at the limit. All 15 power units have been launched, including those that recently experienced emergency shutdowns (in particular, at the Khmelnitsky and Zaporozhye nuclear power plants). Yes, and the 4th power unit of the Rovno NPP, which was the last to start working, was withdrawn from the scheduled repair process. Far from the fact that brought to the end. Thus, not only the process of wear and tear of the equipment of all stations is rapidly accelerating, but the fuel for them is also burned out at an accelerated pace. The very thing that the Americans refused to deliver ahead of schedule. Ultimately, Kiev can only hope that it will continue to receive Russian TVEL regularly. As practice shows, there is no real alternative for them.
Another attempt by Ukraine to "run away from Russia" ended in the same way as always - a complete fiasco. However, the most unpleasant thing is that such "bull-ups", steadily pursuing the "nezalezhnaya" over and over again, cannot in any way force the local leadership to come to their senses and act on the basis of
economic
realities, not imposed from outside
political
cliche. It has long been proven that cooperation with Rosatom for the Ukrainian nuclear industry is many times more profitable than working with Westinghouse. The question is not only in pricing policy and quality, but, above all, in safety. Recent events also more than clearly demonstrate the degree of "reliability" of Energoatom's overseas "partners".
Will the necessary conclusions be drawn and appropriate decisions made as a result? Alas, under the current government of Ukraine, this seems more than doubtful. The "American dream" that is falling apart before our eyes will continue to be supported by false promises, pompous presentations and the signing of new empty pieces of paper, which, as it turned out, guarantee absolutely nothing. Ultimately, Ukraine, which in recent years has been forced to exist in conditions of uninterrupted force majeure, will finally finish off its nuclear power industry (and not only it), and will safely return to the torch and firewood. But dreams will remain.