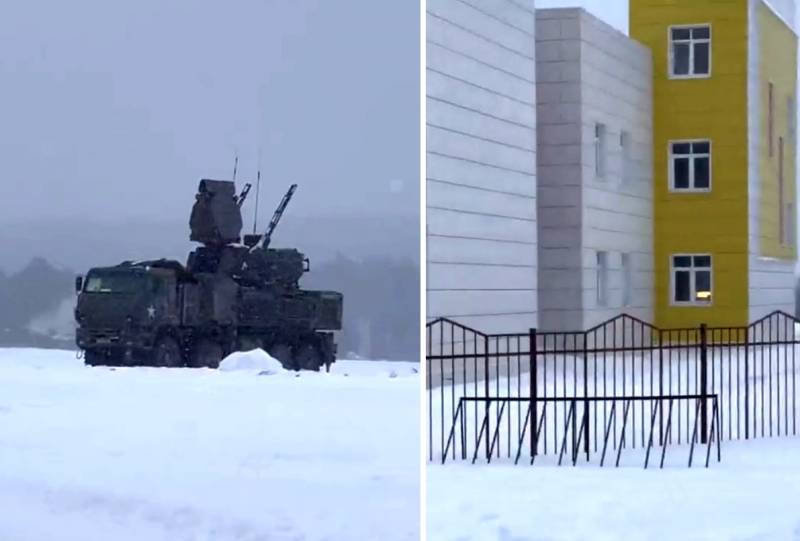 Against the backdrop of the ongoing arming of Ukraine and the instigation of Kiev to start the intensification of hostilities in the Donbass by Western "partners", as well as another
provocations
Ukrainian security forces against Belarus, in the Western Military District of the Russian Federation decided to conduct defensive maneuvers of the air defense system in depth.
However, residents of the Russian million-plus city of Voronezh were surprised by the Pantsir-S50 anti-aircraft missile and gun system deployed just 1 meters from the school building, kindergarten and dense urban (multi-storey) buildings. A video appeared on the web documenting this moment.
Some social media users were outraged by this. In their opinion, if an "offensive from the western direction" begins, then the Russian air defense system will be subjected to a first-priority strike. Consequently, a school, a kindergarten and adjacent residential buildings located near the mentioned ZRPK may be affected.
Schools will be built - there is nowhere to stick the "Shell"!
– jokingly answered other users.
Interestingly, did it just coincide or did they really begin to deploy air defense in the border cities? Well, that is, specifically in residential areas
others asked.
I would climb the wall with happiness when I saw this through the window at the lesson
– shared his emotions one of the users.
Working out the protection of a civilian object from an attack by a kamikaze drone, for example
- the subscriber in social networks admitted the purpose of placement.
It should be noted that according to the press service of the Western Military District, a "bilateral tactical exercise" is being conducted in the Voronezh region, in which the forces and means of the air defense and aviation troops are involved. At the same time, the Pantsir-S1 air defense missile systems participate in the annular cover of the deployment sites of the S-300PM2 air defense missile launchers, which should repel the attacks of the mock enemy UAVs on the command posts of the RF Armed Forces.
In addition, the Pantsir-S1 air defense missile systems must demonstrate skills in dealing with heat traps of imaginary enemy aircraft and protect the airspace of the Russian Federation in the conditions of electronic interference. More than 500 military personnel and over 80 units of various equipment take part in the maneuvers.
equipment
.